This week's Jim's Notebook gets emptied out on the East Coast, as I'm hitting a multitude of sets as well as New York Comic Con in the Big Apple.
But even while across the country, I still managed to save a few scoop-worthy scraps from my week for you. Gather them up below...
LAW & ORDER: SVU One of my first stops was Brooklyn for an on-location shoot for Episode 7 of the current 14th season of the Mariska Hargitay-anchored drama. And while I did get a glimpse of Hargitay who was shooting a city street scene with co-star Kelli Giddish and guest stars Scott Bakula and Bijou Phillips, the high point was sitting down for lunch with Danny Pino (below).
Pino, who joined the series last season (after the exit of Chris Meloni) as Detective Nick Amaro, shared the vision of show-runner Warren Leight for season 14 of the crime procedural.
"Warren has spoken about what this season is truly about, which is the secrets. Everybody has something that they're trying to hide and conceal. And sometimes they're good at concealing, sometimes they're not. Sometimes the secrets are not maybe as negative as you might imagine and some of them are pretty damning, as you saw with Cragen (Dann Florek)."
The cases this season, of course, are just as dark with classic SVU twists and turns, but Pino, a father of two, said there is one type of story that hits him closer to home: "I'm much more sensitive with anything that has to do with children, any kind of sex crimes that I see either on Twitter or on the internet or the news…I used to just gloss over them but now it's part of my consciousness that I now end up reading a lot of those actual cases."
As for upcoming episodes, watch for Amaro to continue in a not-so-happy place as he deals with his crumbling personal life now that his wife has left him.
"He's pulling away from the squad. He's much more of a 'lone wolf.' I think he's in a position where he feels that people in the squad don't trust him, starting with 'Liv (Hargitay) and Cragen, which is ironic since [Cragen] was under fire himself. I feel like he's having such a hard time at home, he feels like he's not good company either."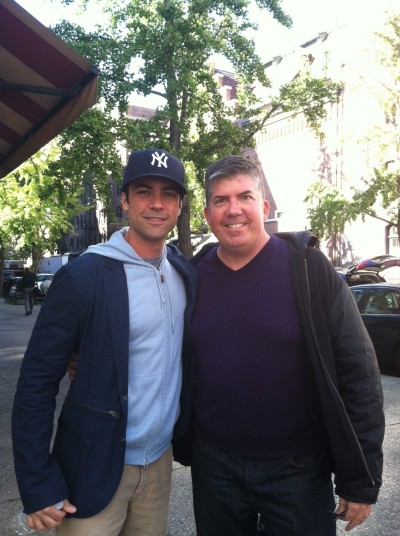 LOUIE: Last month he won the Outstanding Writing for a Comedy Series Emmy and audiences and critics can't seem to get enough of comedian Louis CK's half hour FX comedy... but during a press call earlier this week, network head John Landgraf announced that the show would be taking an extended hiatus, which means the fourth season won't air until the spring of 2014.

The comedian, who writes and directs every episode of the series, told us during the call:

"The last three seasons have been just fun and work and stories, and it's been great to share all this stuff, but I want to keep going, and I want the show to keep getting better. That's my goal, and I don't want it to be 'making the donuts.' I want it to keep being something that comes from somewhere fun and important and I want it to make money.

"It's a luxury that I ask for, which is more time to create Season 4. And Season 4 is already my job right now, but I'm going to take a whole lot of time to turn it in, so that's why I wanted this time, wanted this break, and I'm excited about what we can do in the future." Louis also said he plans to go "somewhere new" in the new season and that shooting for the season would probably start next September or October for a May 2014 launch.

I must say: kudos to FX for proving its mantra about letting the creative be creative and, if you're fan of the fabulous genius that is Louie, you'll know it to be true that it will be worth the wait when Louie returns in '14.

GO ON:  It's that time of the Fall TV season when the latest offerings are starting to show their true colors – will they live or die? We've had one casualty thus far (Made In Jersey) and there are probably more coming soon, but a slew of renewals came about, too (Fox gave full season orders to newbies The Mindy Project and Ben and Kate).

Over at NBC, besides Revolution and The New Normal, Matthew Perry's Go On also will be around through the rest of the season. But did you know Perry's original intention going into another series was far more serious?

"I was looking to do a drama," Perry told reporters earlier this week, saying that he had met with all the networks and studios about that. But, as often happens, he was sent the pilot script for Go On.

"I called my manager and said 'why did you send me this?' and he said 'just read it.' And I realized that it had all of the elements that I was looking for. It was definitely funny, it had a lot of funny characters in it and, also, it posed a big dramatic challenge too. Plus, I had known Scott Silveri…he was on Friends for eight years and he'd written a really great script so I was in."

But Perry did add that while Go On will undoubtedly keep him busy for awhile, he also holds high hopes that he can return to The Good Wife, where he guested in several episodes last season as a character was very much the opposite of, say, Chandler Bing.

"It's really fun to play a guy who is just so evil. I like to do both. I like to do comedy and drama and I got both jobs on the exact same day. I got Go On and The Good Wife both on the same day and it was a great day. So, I'm really happy with how Go On is going and, you know, I hope to get to do some more Good Wifes in the future too."

That's a wrap! Time to close my Notebook for now. Anything else you're dying to know about your favorite show? Leave a comment here or you email me directly at jim@jimhalterman.com. And remember: get all your TV scoop by following @TVFanatic.

Jim Halterman is the West Coast Editor of TV Fanatic and the owner of JimHalterman.com. Follow him on Twitter.

Tags: Law & Order: SVU, Louie, Spoilers, Go On, Jim's Notebook