This week's Jim's Notebook gets emptied out with a glance ahead to November, when so many great shows are either premiering or returning with new episodes.
I also take a look at the upcoming new season of Dallas with one of the cast members. And, after getting an early peek at tonight's episode of Fringe, a non-spoilery plea from yours truly to not miss "The Bullet That Saved The World."
But let's swing by Rosewood first...
PRETTY LITTLE LIARS: The annual Halloween episode that aired earlier this week kicked some butt in the ratings but also deepened the mystery of the show, thanks to the expert storytelling of Executive Producer Joseph Dougherty. We definitely had some chilling moments: the lives of both Aria and Spencer were threatened; Mona continued her dastardly ways; someone definitely died and Adam Lambert rocked the Ghost Train.
The morning after the episode aired, it was business as usual on the PLL set in Burbank and I was there to chat with Shay Mitchell and special guest star Missy Franklin, the multi-Gold Medal winning Olympian from this summer's Games in London. In the episode, Franklin, playing herself, meets up with Emily in The Brew to talk up swimming.
Franklin told me she's a huge fan and that the series reached out first to her to gauge interest. Accompanied by her mom, the 17-year old swimmer looked like a natural on the set and I saw her nail her scene with Mitchell like a pro. The episode doesn't air until next year so we'll be bringing more coverage than.
On a personal note, my job may be talking to celebs on a daily basis and I usually approach everyone with a professional demeanor... but I admittedly was more than a little excited to chat with an actual Olympian. Maybe you can tell all that from my grin in this photo with Franklin: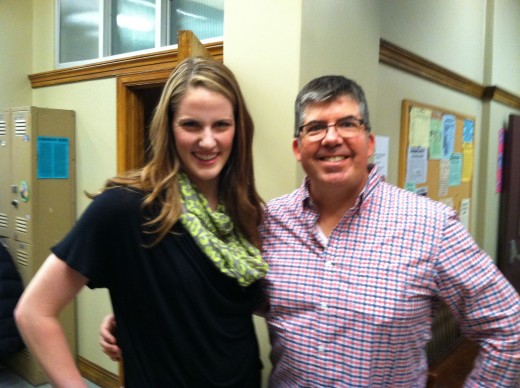 DALLAS:  If you follow my tweets or have clued into my fave shows, you know I love a good soap and one of the best this past year was TNT's rebooting of Dallas. They just got the first season right with how they integrated the original cast members (Linda Gray, Patrick Duffy, Larry Hagman) with the new young hotties (Josh Henderson, Jesse Metcalfe) as well as some ideal casting with the fabulous Brenda Strong as Bobby Ewing's wife, Ann.

Production has started on the second season and I was itching to know how things were going, so I checked in with Strong, whose character showed some (excuse the phrase) cajones in dealing with her evil ex, played by X Files alum Mitch Pileggi. But will she be butting heads with him again in the new season?

"Ann is definitely in for a wild ride at the hands of her ex in season two," she told me via email yesterday. "Even I didn't foresee how despicable Harris Ryland could be."

Overall, Strong sounds as excited as I am to see what's to come when the show returns in 2013.

"We have hit the ground running in season 2. The writers have given all of us so much to work with already."

The actress also told me that being back in Dallas "is starting to feel like 'home.' Since Season 1, the people of Dallas have really embraced us and are proud of the show, so it's been wonderful to be out and about in the city."

And, if you follow Strong's tweets, she often shoots out pics from the set, so I had to ask about her recent tweet showing off co-star Gray's fab shoes and if they compare notes on their personal fashion: "Her fabulous shoes next to my dirty boots!  Of course we compare notes - she is an elegant, sophisticated sexy woman with great taste.  I think it's wonderful how much more fashion is playing a role in season 2."

Dallas kicks off Season 2 on January 28 on TNT. Follow Strong's tweets @Brenda_Strong.

THE MOB DOCTOR Baseball has waylaid much of the Fox schedule as of late, but we'll get more of the freshman drama starting November 5 and with Jennifer Beals coming on board for a three-episode arc, I received an email from creator Josh Berman telling me what exactly Beals is going to bring to the already complicated world of The Mob Doctor.

"I'm thrilled to have Jennifer Beals join the cast for at least three episodes. We wrote the role of Celeste LaPree specifically with her in mind. She's gorgeous, empowered, and strong. The character used to date Constantine Alexander (William Forsythe) before he was sent to jail, fifteen years ago. She's a former call girl turned high class madam and she's now married to a hypochondriac, mafia boss that runs Chicago's Northside. In a world of organized crime, dominated by men, Celeste LaPree has made a name for herself. Unbeknownst to those around her, she has a secret agenda that may change the face of organized crime in Chicago."

Sounds juicy to me! Need to catch up on The Mob Doctor? Go watch the first four episodes on Hulu Plus.

FRINGE: Finally, tonight's episode of Fringe brings all the elements together that show why this drama has found a place in my top 10 series of all-time. To reduce it to a simple sci-fi is soooo selling it short, and while tonight's hour deals with a lot in the quest to rid the world of those pesky Observers, it also shows what a family we have in Walter, Olivia, Peter, Astrid, returning member Broyles and newest member, Peter and Olivia's daughter, Etta.

Trust me: it is a must-see episode. I wish I could honestly say that if you haven't yet taken a dive into the series that it would be easy to know what's going on, but that would be on par with trusting anything those menacing Observers. However, the magic of the show is how intricate and heady it can be in its deep mythology while also hooking you with its rip-your-heart-out emotional core.

That's a wrap! Time to close my Notebook for now. Anything else you're dying to know about your favorite show? Leave a comment here or you email me directly at jim@jimhalterman.com. And remember: get all your TV scoop by following @TVFanatic.

Jim Halterman is the West Coast Editor of TV Fanatic and the owner of JimHalterman.com. Follow him on Twitter.

Tags: Fringe, Pretty Little Liars, Dallas, The Mob Doctor, Jim's Notebook