This week's New Girl put an interesting spin on Jess and the gang.
When a group of really young 20-somethings trying to figure out life move in next door, Jess and friends are no longer the young, crazy 20-somethings trying to find themselves, they're the late 20-somethings (or 30, in Nick's case) showing their age.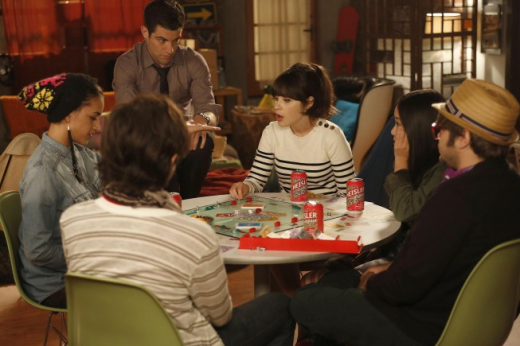 There were a lot of great New Girl quotes in "Neighbors, but I thought the plot brought out Jess' most annoying side. I usually love her twee-ness, but her imitating 80s catch lines was too much for me.

I do adore the idea of a pop culture standard being lost on a younger generation, though. Like that time in eighth grade when all my friends thought "I Can't Get No Satisfaction" was a Britney Spears original.

The guys were in rare form this week. They were all hilarious, and in an even rarer twist, Winston and Nick outshone Schmidt. Of course, Schmidt's delivery was flawless, but Nick's prank vendetta was amazing. And he came in under budget! His best prank? Schmidt's disgustingly high-waisted pants. The reveal was perfect. I couldn't stop laughing.

After seeing Nick's dedication, Winston realizes that he needs to commit to his passion. His "promotion" was well deserved, but his best bit this week was his inability to come up with the perfect prank.

New Girl Season 2 has started off with a solid string of episodes and the possibilities for the rest of the season are limitless. What do you want to see happen?

Tags: Reviews, New Girl
Want more New Girl?
Sign up for our daily newsletter and receive the latest tv news delivered to your inbox for free!
More From TV Fanatic
On Tyrant, Bassam attempts to find a peaceful resolution instead of a revolution. Will he succeed?
On tonight's Covert Affairs, Annie and Auggie switch jobs and head to Paris. Will Auggie succeed in the field with Annie as his handler?
Usually it's insults that get tossed around on The Real Housewives of New York City Season 6 Episode 20 but Aviva threw out a leg. Her own! On the dinner table. We attempt to make sense of the nonsense in our +/- review.
On Perception, Daniel and Kate try to track down a missing baby. Kate also must deal with Donnie's talks about their own future children.
---