Sarah Paulson Previews American Horror Story Halloween, One Scary Asylum
by Matt Richenthal at .
There's a storm coming to American Horror Story.
So Sarah Paulson told me in our exclusive chat last week, and she meant it literally. On tonight's new installment of the FX thriller, Paulson's Lana Winters and a couple other asylum inmates get caught in a torrential downpour during an escape attempt.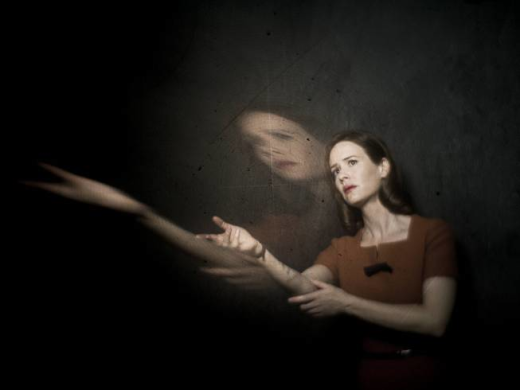 Will Lana make it through to safety? Don't count on it.

"It's going to get much worse for her," Paulson said of her trapped character, who turned on a pair of patient last Wednesday. "She's growing more and more desperate as her opportunities to find her way out are dwindling. There's no one she can trust. She's completely alone."

Paulson sees her character as a stand-in for the audience at times, "viewing all of this craziness from the inside," as she put it.

But the actress had no idea that's the role she'd be playing when she signed on for Season 2. The actress had no idea, period, about the role she'd be playing. She accepted Ryan Murphy's offer to return without knowing anything about Lana.

"I thought it was a bold and genius thing to do," she said of Murphy's rebooting of the series. "I couldn't have been more honored to just be asked."

And how does the asylum compare to the haunted house? Paulson thinks this version is even scarier than the original, but not for the reasons you may think.

"This one is not a story about the supernatural," she said. "The most horrifying thing I can imagine happening to someone is to be locked down and no one knows where you are. And these types of things, in various ways, did happen at the time. Nobody had any recourse."

Indeed, the season has already dealt with the topics of sanity and religion and homosexuality and false accusations.

Paulson couldn't reveal much about what lies ahead, but there are "plenty of people who don't believe in ghosts," she teased. They have no choice, however, but to believe in the events depicted on screen.

"Everything happening on the show now could happen, under different circumstances and in different ways, today."

And, really, that's the most frightening thought of all.

American Horror Story: Asylum airs a new episode tonight on FX. Visit TV Fanatic the moment it concludes for my detailed review.

Matt Richenthal is the Editor in Chief of TV Fanatic. Follow him on Twitter and on Google+.

Tags: American Horror Story, Exclusives, Interviews
Related Stories