Supernatural Season 8 has added a new and intriguing character, Benny. He's a vampire friend of Dean's and... wait... a hunter pals with a blood sucker?!?
TV Fanatic went to the Supernatural set in Vancouver (trip provided by Warner Bros. TV)  to get the scoop on this unusual development.
In the video below, Jensen Ackles talks about the relationship between Dean and Benny; while, later that day, Misha Collins chimed in on Castiel's feelings on the unique connection...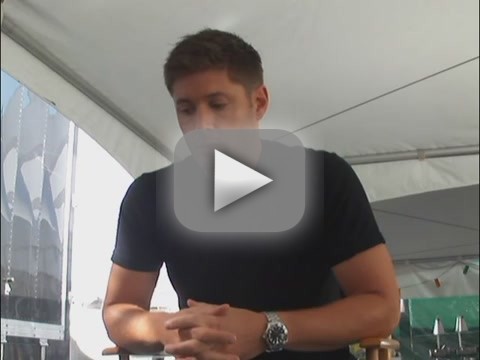 A friendship between Dean and Benny is almost incomprehensible, but in Purgatory they became allies, as Jensen explains:

"The character is a really great kind of contemporary for Dean. He's now got somebody … it's a foxhole relationship in a sense. He's been at war with this guy... Benny really earned his stripes with Dean."

The extent of the friendship is going to be a challenge for Dean and Sam.

"[Benny] earned his trust, which is really difficult not only for Dean to understand, but even more difficult for Sam to understand when Dean comes back." Ackles said. "So not only is it a unique, odd relationship for Dean to have after many years of fighting these things, but now to explain that relationship to his brothers is going to pose some serious questions and some difficult things ahead."

While in Purgatory, Castiel doesn't quite get the relationship either. Teased Collins: 

"He's weary of Benny from the get go and I think that he then is possibly a bit jealous, too, of the sort of friendship or camaraderie that happens between Dean and Benny. You know, Cas doesn't have a lot of other friends in Purgatory."

What do you make of Dean and Benny's relationship? Should Dean trust him even though he is a vampire? Tune in to Supernatural tonight at The CW and then visit TV Fanatic for our comprehensive review.


Carla Day is a staff writer for TV Fanatic. Follow her on Twitter and on Google+.

Tags: Supernatural, Jensen Ackles, Interviews, Set Visits