Supernatural Set Visit: Jared Padalecki Teases Tonight's Episode
by Carla Day at .
Supernatural returns tonight with an all-new episode entitled "What's Up, Tiger Mommy?" Before Sam and Dean track down the tablets, they come face-to-face with perhaps their greatest foe, Kevin's mom.
TV Fanatic recently stopped by the Supernatural set in Vancouver (trip provided by Warner Bros TV) and spoke with both Jensen Ackles and Jared Padalecki. In the video below, Jared spoke with us about what we can expect this evening ...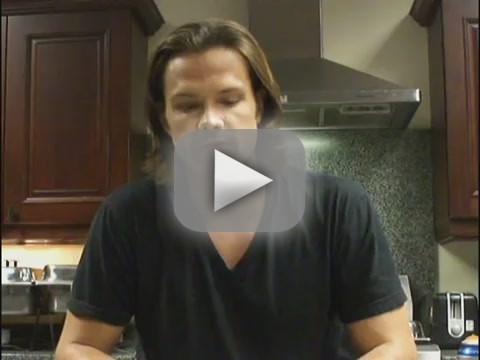 Now that Kevin has joined their hunter team, Sam and Dean are forced to give into his demands. He is the key to saving the world after all. 

Jared explains, "Kevin, understandably, is worried about his mother and while Dean is very much like hey, forget about it we have some work to do, like I'm sure she's fine, Kevin is resolute in saying, you know, I got to check on her and so we go to check on her and find out, indeed, she's been kind of compromised and we have to save her before we get to try and regain possession of the tablet and so it's a fun episode."

Hilarity is sure to ensue.

"It puts Dean and Sam in some kind of funny situations," Jared says. "where these two guys who have kind of been a sovereign entity and then we've had Bobby and we've had Cas and we've had some other hunters but are kind of…there's a Tiger Mommy quote unquote forced upon us and so we find ourselves in a situation where we're like we don't want to buckle our seatbelts, we don't want to, just chill out and let us do what we do. We know what we're doing but it's kind of some nice hijinks."

"What's Up, Tiger Mommy" looks like it's quite a funny episode. After last week's tense season premiere, "We Need to Talk About Kevin," I'm looking forward to seeing the boys back in action.

If you missed them last week, check out our other Supernatural interviews from the set: Jensen Ackles on Dean's return from Purgatory and relationship with Sam, and Jared Padalecki on the strained reunion of Sam and Dean.

Carla Day is a staff writer for TV Fanatic. Follow her on Twitter and on Google+.

Tags: Supernatural, Jared Padalecki, Interviews, Set Visits
From Around the Web