The Voice began its Battle Rounds on Monday, but this time there was a new twist that benefited a few contestants and certainly everyone watching.
One of the major problems with the Battles in the past was that it seemed they would purposefully pit two really talented contestants against each other in order to create an awesome performance that would make that specific episode more enjoyable for fans.
The problem ended up being that after that great moment, one of those two extremely talented singers was completely out of the competition (see: Anthony Evans). That wasn't good for the future of the season. Thanks to the new "steal" option after one coach picks his/her winner, that issue is moot.
In essence The Voice gets to have their moment of cake, and then eat it too as the rest of the season goes on. Let's see how much better that made this week's first episode of season three battles...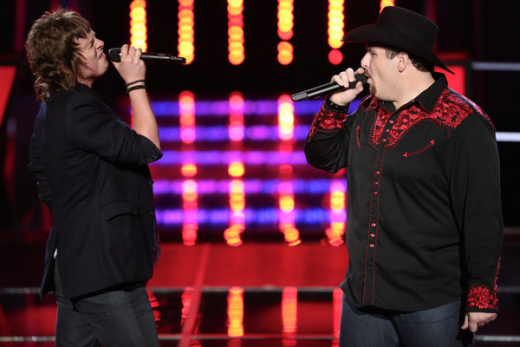 Team Blake - Casey Muessigmann vs. Terry McDermott - "Carry On Wayward Son"
The Battle: I'm not one to disagree with Michael Buble, but why would you want Casey to change out of his country style if that's who he is? Both of these guys did really well, but it seemed like Casey was singing the song, while Terry just WAS the song. Just because Terry seemed more comfortable with the song, that doesn't mean that it was more impressive. The difficult task the Casey was given was not something to take likely.
My Choice: Terry
Blake's Choice: Terry
Battle Grade: A-
Team Adam - Bryan Keith vs. Collin McLoughlin - "Santeria"
The Battle: I understand the enjoyment of imperfections in a performance, but I'm not sure I agree with Adam and Mary that having perfect pitch can be a bad thing. I don't think it was an imperfection in Bryan's voice that had me liking it much more than Collin. It was the grit and the realism in it that got me excited every time he came in on the vocal.  
My Choice: Bryan
Adam's Choice: Bryan
Battle Grade: B+
Steal: Blake and Cee Lo. It was a great point by Blake saying that Cee Lo had just said that Bryan did a better job, and Collin chose Blake for that.
Team Cee Lo - Diego Val vs. JR Aquino - "Jessie's Girl"
The Battle: It seems like it might be an uphill battle for Diego in this competition. He's not familiar with many of the songs he might have to sing, and English is his second language. However, if he gets as much time to practice as he did for this battle, Diego will be just fine. The entire performance seemed to lose some steam as it went on, but Diego's opening was fantastic. JR just seemed a little bland for me.
My Choice: Diego
Cee Lo's Choice: Diego
Battle Grade: B
Team Xtina - De'Borah vs. Nelly's Echo - "Message in a Bottle"
The Battle: Watching rehearsals makes this entire process much more interesting, because we get to see who has the advantage in the early going. Here, it definitely seemed like Nelly had the edge in knowing the song like the back of his hand. When we got to the actual performance it kind of seemed like a different story.  Nelly's straight tone sounded great, but he continued to go into a weird falsetto that didn't work at all. De'Borah didn't do a heck of a lot to easily take this battle, but she definitely sounded nice.
My Choice: De'Borah
Xtina's Choice: De'Borah
Battle Grade: C+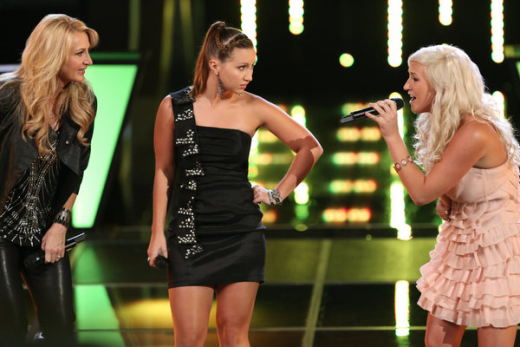 Team Blake - 2Steel Girls vs. Gracia Harrison - "Sin Wagon"

The Battle: Wait, there isn't any yodeling in this song. How is Gracia supposed to prove herself? That was an interesting dynamic, because the Steel daughter was probably my favorite single voice, but the Steel mama was my least favorite. So do you pick the act with the best voice, or the act without the least exciting voice?
My Choice: Gracia
Blake's Choice: Gracia
Battle Grade: A-

Team Cee Lo - Amanda Brown vs. Trevin Hunte - "Vision of Love"

The Battle: This felt like one of those battles from last year where it seemed like they put these two power houses together to create a memorable moment for the end of this episode, but didn't realize they would be losing someone really good. This season they did something about that by coming up with the "steal."  If The Voice lost either one of these two contestants after this round, it would have been a travesty.
My Choice: Amanda
Cee Lo's Choice: Trevin
Battle Grade: A
Steal: The judges were talking about stealing the loser of this battle from the jump, so it was no surprise that all three of them hit their buttons as soon as it was okay to do so. Amanda chooses Adam because she likes to go outside of the box.

----------------

What did you all think of the first episode of the Battle Rounds? Which was your favorite battle? Who was your favorite contestant? Did the coaches get any decisions wrong?  And what did you think of the new "steal" aspect?

Dan Forcella is a TV Fanatic Staff Writer. Follow him on Twitter.

Tags: The Voice, Reviews