The X Factor Review: Don't Forget The Lyrics
by Dan Forcella at .
They are just racing through these eliminations on The X Factor, as Thursday's Boot Camp Battles seemed to be the final test before cutting the 60 remaining contestants down to 24 for the judges' houses.
Other than speed and efficiency, this season of The X Factor also seems to be doing a much better job at finding talent...or at least showcasing it. There was a wealth of it on display tonight, so let's recap what all went down with The Good, The Bad, and The Judges...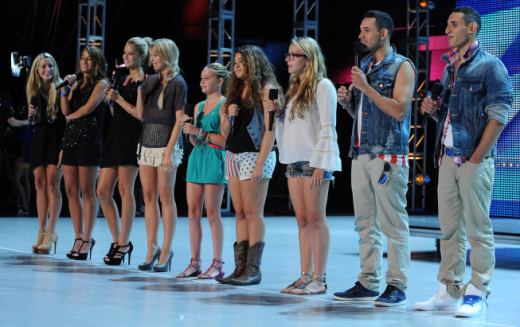 The Good

Tara Simon vs. Jennel Garcia: Both sounded good, but Simon hated the song choice of "Landslide" because it was too mellow. It's really not fair to some that another contestant can bully them into a song, but that's how the game is being played, and life isn't always fair.  Even though Jennel wasn't comfortable with the performance, I think she has done enough to make it to the next round.

Carly Rose Sonenclar vs. Beatrice Miller: I don't remember seeing Beatrice before but she started "Pumped Up Kicks" with a nice tone. Yikes, when Carly jumped in though, the game was completely changed. For a 13 year-old girl, she has such great tone, power, and style.

Vino Alan vs. David Correy: I don't like David interjecting what this all means to him. Everyone has a purpose. What makes his more important than anyone else's? Both of these guys are very good, but they have different sounds and different vibes. I don't know if I could choose between them if given the task.

Diamond White vs. Dinah Jane Hansen: Diamond has to just be the sweetest girl ever. Dinah, on the other hand, has a house full of people, so who should we root for? I don't think it matters who we root for, because when Diamond followed Dinah, it was clear who the judges would be picking between the two. That little girl has some serious talent!

Arin Ray vs. Normani Hamilton: Why do I not remember Normani?  Have we not seen her before? She did great with this One Direction track. Arin did, too, but we've seen him excel a number of times already. Demi was a sucker for the young love blossoming on stage, and that was kind of hilarious.

Paige Thomas vs. Cece Frey: They are building this rivalry like you read about. Hey contestants, just don't agree to the song if you don't know it. There has to be a track that the both of them knew, right? Just listening to their two answers to Simon's question, I believed in Paige SO much more. She seemed earnest, while Cece felt fake for some reason. Paige was the first contestant I honestly felt bad for when she didn't quite know the song. If the both of them don't make it to the finals, I will be shocked. Not only because they're both talented, but because of how much screen time they are getting.

The Bad

Willie Jones vs. Tate Stevens: The sad thing about Willie forgetting all of the lyrics is that his voice probably hadn't sounded better. Can it be possible to have your best performance when you only sing a couple of lines from the song?  Hey judges, there's a difference between giving a song to someone who will definitely do poorly at it and someone just not knowing a song. Willie should have learned the song. He's going to have to do that in this competition, and for the rest of his life in this business. Fortunately for Willie, Tate didn't sound all that interesting in his side of the song either.

Jillian Jensen vs. Latasha Robinson: Another person forgetting the lyrics. She had so much confidence coming in, but Latasha just completely lost it. It was nice to see Jillian attempt to help her back into it, but when it came to her turn to get on the mic, she stepped right in. Her side of the battle was nice, but I don't think she quite broke Demi's heart this time around.

A number of more acts forgot the lyrics as well. That is not an easy task people.  We take it for granted because so many can do it, but many cannot, and that's just the way it goes. Does that mean those individuals who can't memorize words don't have great voices? No, but they probably aren't meant for the music business, and they definitely wouldn't make it through an entire season of The X Factor.

The Judges

How are these judges agreeing to do something as ridiculous as that Pepsi bit? It was quite possibly the most awkward thing we've seen yet, and that is saying something.  If one out of the four of them actually liked the taste of that new flavor of Pepsi, I'd be extremely surprised.  

With next week sending the contestants to the judges' houses, it will come time for Simon, L.A., Britney, and Demi to bring in a sidekick to help them make decisions. The only thing better than a Demi Lovato judge is a Jonas judge, and by the looks of next week's sneak peek, that's exactly what we're getting. I'm expecting big things out of Little Nicky Jonas.

---------------

Which battle was your favorite on Thursday? Did you see any new contestants that surprised you? And do you think you could remember the lyrics to a song you just learned?

Dan Forcella is a TV Fanatic Staff Writer. Follow him on Twitter.

Tags: The X Factor, Reviews
From Around the Web