Up All Night Review: Neighborhood Witch
by Chris O'Hara at .
Chris and Reagan were all laughs at the opening of this week's Up All Night as they poked fun at the hipster coffee shop patrons. As "Ma'am'd" rolled on though and Reagan took a spill, it was as if her rose colored glasses gotted knocked off.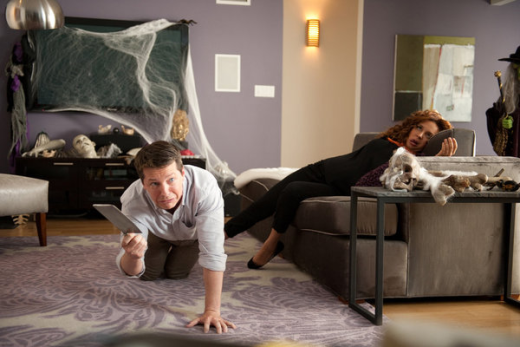 Reagan went from relating to the young barista over Yeahsayer to feeling like she needed to be fitted for a new hip. She took the spill like a champ, but seemed a little thin skinned after Chris ignored her fedora flirtation.

Ava on the other hand was well within her rights to be angry with her neighbor's hateful Wifi name. I liked Sean Hayes's Walter a lot more this time around. His "hooray for second chances" line was very apropos in addition to being one of the better Up All Night quotes of the week. The best of which may have been his comment about Ma'am from Webster.

There was no doubt in my mind when it came to the best guest star of the night. It had to be Tony Hale. When he said hello to Chris in his dentist office all I could see was Buster Bluth and it looked like Will Arnett felt the same way. I bet there were some hilarious outtakes from that scene. Then there was my favorite part of the episode when Chris fought his laughter at Reagan's expense.

All episode Reagan looked like a kid who went Trick or Treating and came home with a bag full of pennies and fruit. As the episode came to a close, it was nice to see Chris put a smile on her face (once the swelling went down) with his sentimental yet funny ode to Reagan's backside.

Tags: Reviews, Up All Night
From Around the Web