Grease is the word when Glee returns tonight with a run of new episodes, starting with "The Role You Were Born to Play."
But before we all start
hand jivin
', TV Fanatic had the opportunity to catch up with Alex Newell, who plays Wade/Unique Adams, to talk about the jump from guest appearances to regular cast member status. Read on to find out what he had to say...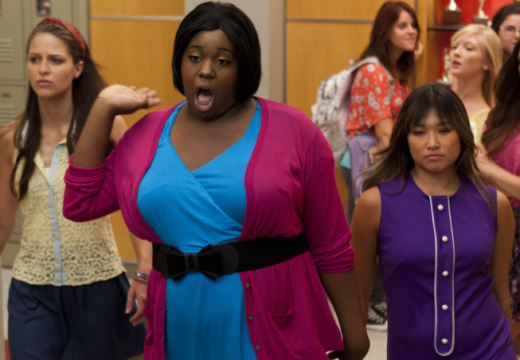 As most of us remember, Alex was a runner-up on season 1 of

The Glee Project

. But his character made such a splash that Alex was bumped to series regular for

Glee Season 4

. 

"It's so surreal, it's crazy, it's a lot of weight on my shoulders, but I love it," the actor said of his expanded role.

Being a relative newcomer to such an established cast can be difficult, but the Glee stars have been nothing but welcoming: "They're so sweet. To get to know them as people and who they are, and to get to know them on a friend level, it's been fun."

Which cast member was Alex most excited to work with? Amber Riley.

"I still look up to Amber to this very day. She's in New York and I'm still looking up to her. She's incredible."

If he could have anyone he wanted make a guest appearance on the show? Sorry, Britney Spears, but Alex says he'd choose Chaka Khan or Patti Labelle "to be godmothers who just come in and save the day."

Alex's favorite moment of the show so far has been "Boogie Shoes," his debut performance as a member of Vocal Adrenaline, New Directions' fiercest competitors. Overall, however, "getting to know what goes into making Glee and how hard we work and everything like that I think is just so, really fun and cool to see the hard work and persistence that goes through it all."

Alex wowed Ryan Murphy when he dressed in drag during a Last Chance performance on The Glee Project, which became just one of the traits incorporated into Wade/Unique. Personally, Alex says, "I feel the confidence that Unique has in myself because I thrive off of that. I've been grooming myself to not let anything get to me so that aspect of confidence is part of me."

How similar is he to his on-screen persona?

"I think the timidness that I have sometimes when I'm in a new situation is there when I play Wade, when you're in a new surrounding and you don't know anyone and you don't talk much. I see that awkwardness and that timidness."

The duality of the Wade/Unique character is one of the best parts of playing the role, he added: "Every line is sculpted and molded around the character and what the character would say and I think that's just so cool. That's so unique and special and I feel like I have so much fun delivering the lines."

The next several episodes, Alex teases, will take us deeper into the life of Wade/Unique: "With the next upcoming episodes you're really going to find out who Wade is, what he's feeling on the inside, and it's a poignant moment because it's defining the character. You're going to see the trials and tribulations and the repercussions of him being himself and understand more and more how he feels on the inside."

One of the things Glee has taken pride in is its portrayal of the "underdog," that person who's a little awkward and perhaps unsure of him or herself. Alex, in thinking about how the viewers at home relate to his character, said of this theme and how it applies to real life:

"I just want them to know, if they're going through the same thing that Wade/Unique is going through to understand that it's okay for them to be themselves and just be confident in who they are.

"If you find something, someone that you can relate to, there's something in your mind that clicks and says 'Wow, if this person can be who they are, what's stopping me from being who I am?'"

Miranda Wicker is a Staff Writer for TV Fanatic. Follow her on Twitter.

Tags: Glee, Exclusives, Interviews