Hart of Dixie Review: Simply Adorable
by Kate Brooks at .
I am officially retitling this episode to "Adorable." Tonight featured all of the mushy and adorable scenes that make you go "aww" and "oh my goodness how sweet." By the end, I had a stupid smile on my face because it was so darn cute.
In "Achy Breaky Hearts," we had lovers breaking up, reconciling and then breaking up again. From Brick and Emily ending their love affair to Wade realizing he has real feelings for Zoe, this episode pulled on the heartstrings. Hard.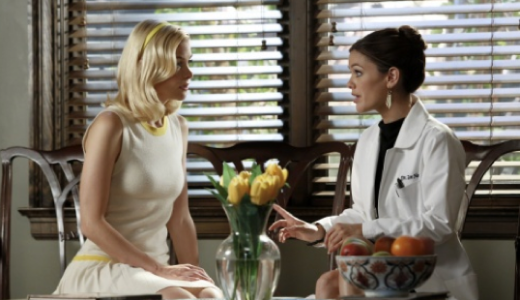 For the most part, the episode centered around Lavon and Ruby. Their relationship was the center of the motivation for Lemon's actions and for most of Zoe's actions. Lemon was dead set on breaking them up in for her own benefit and recruited Zoe to help. Some of me hated that Lemon was going back to her "old" devious ways and the other part of me loved that she is fighting for what she wants. Then, there was Zoe who is so clueless.

Girl, come on. 

I think it's also VERY selfish of Lavon to ask Ruby to stay in the small town of Bluebell for him. If you truly love someone, you have to let him/her go, especially if that's the best thing for them. Ruby is meant for bigger and better things than Bluebell and as much as I love her character on the show, she simply should be elsewhere. Lavon said, "jobs come and go." Well, maybe in your small town - but this is a down economy where gigs are hard to find.

I died in the scene when Lemon brought a cake for Lavon and he was confessing all of those things to her. It was by far my favorite moment of theirs this whole entire series. Jaime King did such a brilliant job; you could just see the pain and longing Lemon felt for Lavon. When she finally made the decision to help him get Ruby back, it was in that moment when saw just how much Lemon has changed and matured.

Remember when everyone hated Lemon and wanted her gone? Look at her now. I knew from day one she'd be the one character that would grow more than anyone else. (Can I just say how much I loved Zoe and Lemon partnering up? Now they just need to become best friends!)

Elsewhere, Brick and Emily are adorable and I am terribly sad that they broke up! Poor Brick. I truly feel sorry for him. He was finally happy and excited to be in a relationship and then they end it. I didn't see that coming, honestly. *Sniff*

Then there was Magnolia, who I will admit I love more and more as each episode progresses, putting aside her stubbornness for her father's happiness. Her and Brick are both growing and learning how to live without Lemon in the household and I want more of this in each episode.

That little boy who was making friends with Wade has to be the most adorable little I've ever seen. His personality, his accent and his cute little chubby body had me smiling and constantly laughing. Can we bring him back? I would love nothing more than to see more of his cute talents on Dixie. 

Normally, I think the Wade and Zoe dynamic is one of the most boring parts of the series, but tonight was not the case. Wade FINALLY realized that he has more than just "friends with benefits" feelings towards Zoe. When he told Zoe that George didn't care they were sleeping together, my heart broke for him. Zoe, once again, is clueless. Get it together, woman!

Wade is better than George and he is the one that should end up with Zoe. Why? They are opposites and it'll be so interesting for them and their dynamic will spark. Zoe and George are boring. Sorry, but Wade and Zoe are my endgame. I am starting to believe that Wade feels the same way. 

Now Wade just needs to grow a pair and fight for his woman! 

Tags: Hart of Dixie, Reviews
From Around the Web