"Ohuna:" The Secret
On Hawaii Five-0 this week, we got to see our favorite Hawaiian police unit flexing its skills in drama as well as action. 
McGarrett Reunion: It was an easy guess that Mary was a daddy's girl, given the situation of her mom disappearing. That said, her sitting at her father's grave talking to him about her fears and missing him was touching. It wasn't until Morty (Shelley Berman) told his story of losing his daughter that tears started to flow. 
I'm really glad that Mary and Doris have reunited (at least physically). Hopefully the crying session they had will help mend fences and heal wounds a little. On the flip side, Steve telling Doris to stand down was a fun and playful offset of Mary's interaction.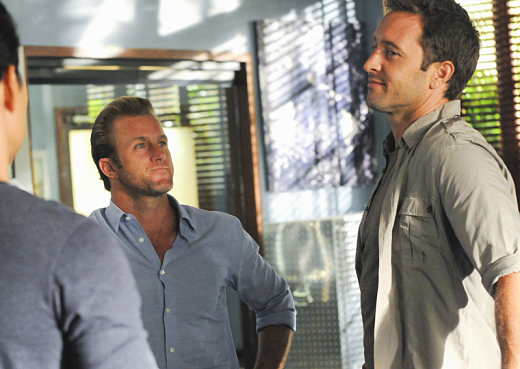 Slater Family: It honestly shocked me that the hacker Zach died while being tortured. That's a pretty dark edge for Lenkov to skate along, but it worked for the context of the story. James was another interesting choice; I didn't catch if they said he was Autistic, but they certainly seemed to indicate some form of social dysfunction.  

The masked gunmen taking the family hostage with Kono inside again had a bit of a darker feel to it. Given their attitudes, I was shocked that Kono was being as bold as she was. How did she not get a bullet in the head?

Unsung Hero: I liked that Zach turned out to have used his hacking skills for good instead of evil. It was a bittersweet ending to a pretty drama-filled episode. Of course, if you hadn't had enough tears, Kono giving her badge to James at the end was the final nail in the crate of drama we enjoyed. 

For a decent dramatic offering, I'm giving it 3.5 tissues this week. How do you think the team did? Did Mary and Doris bring you to tears? How about Kono and James? 

Jim G. is a TV Fanatic Staff Writer. Follow him on Twitter.

Tags: Hawaii Five-0, Reviews