Not only did I briefly forget that Ben and Leslie got engaged two weeks ago, I also completely forgot Johnathon Banks was cast as Ben's father on Parks and Recreation, which made for the perfect dose of comedy. 
The casting people utilized what Banks does so well, but for a more comedic effect than on Breaking Bad. Even though my parents got along while I was growing up, "Ben's Parents," scared me half to death.
Someone on the staff definitely had divorced parents because while most of the scenes were humorous with Ben's parents, some fell into more intense territory, which made me uncomfortable at times. But really, they were mostly fun to watch, especially Banks. Just consider: "We're a Twizzlers family." It was said with the same level of commitment Mike used to tell Walter White what he could do with his meth and grand plans.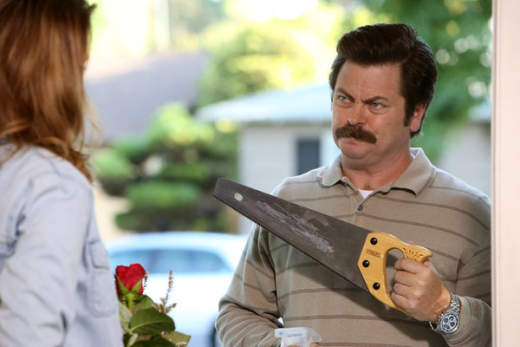 But the best moment in the episode came when Ron Swanson and Mr. Wyatt stared each other down for the last shrimp. Who would you wager got that last piece? My money's on Mr. Wyatt. He may not have a mustache, but he's the most intense person this show has yet to meet.

Oh, Jean-Ralphio. My second favorite moment took place was when Ralphio reintroduced himself to Ron Swanson. There is no way to quote him. It was a series of sounds in typical Ralphio fashion. And whereas Ralphio was used in the past to showcase Tom's more shallow side, this week he was used to show Tom's growth. 

Ralphio wants to succeed in business without really trying, but Tom knows better. He chooses to work on his business (Rent A Swag) over going out with Ralphio and he breaks off his partnership because he is so driven to get Ron's investment. And it pays off. 

As for Chris, I love the name of his breakdown emotion: happy-sad. And how worth it for us to see Champion licking his face and Rob Lowe just being forced to take that, and in character?  his show uses animals in the best way possible. 

As always, Ben and Leslie end up being the perfect couple we always thought they were; nothing can bring them down, even Ben's miserable parents. And what could possible beat Leslie's unity quilt? Did anyone else catch the Game of Thrones/calculator square? Couldn't ask for better.

Stay tuned for next week's episode, where Leslie's biggest celebrity crush, Vice President Joe Biden cameos. In the meantime, visit our updated section of Parks and Recreation quotes.

Tags: Parks and Recreation, Reviews