I'm sure I sound like a broken record, but Person of Interest just keeps on dishing out well written, directed and acted episodes.
Taking a creative spin and turning a lifesaving doctor into a potential killer, "Critical" even upped the ante by introducing another nemesis to Reese and Finch's rogues gallery, sending Carter deeper into Reese's secret world and getting Finch out of that dusty library he calls home.
It's tremendous how a show that could so easily be trapped within standard procedural parameters continues to explore outside them.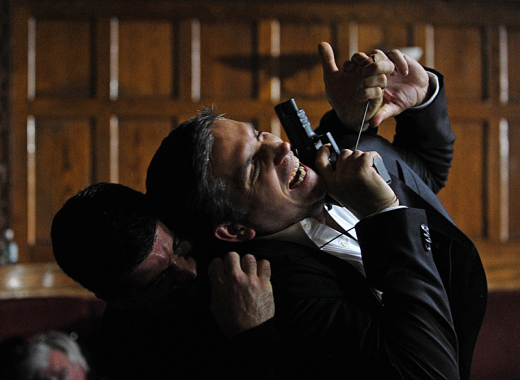 There's always something new to discover, even when the episodes have already found a nice way to work in a story that's mixed with drama and humor, while incorporating captivating characters.

Take, for instance,  Leon, who humorously showed back up in trouble again. Except rather than leave him as a one-off joke, he provided useful expertise to the heroes. He's got that unique personality that's as smarmy as it is oddly charming, while making the possibility for his return both likely and welcome.

The same could be said for former MI-6 operative Wesley, in that he delivered another competent opponent for Reese. He had a posh demeanor covering up his ruthless and top notch tactics, and his unknown past with Reese made him more than just a bad guy for the episode.

In a way, Wesley seems a lot like what Root is for Finch. They both are fascinated by worthy opponents.

Reese never fails to disappoint in his abilities - and his guiding of Amy through the park with a phone, while similar to a scene in The Bourne Ultimatum, had positive results.

And of course we got to see Reese kick an enemy into a car windshield. Would you expect anything less?

But it was Finch back in the field that allowed for the drama in the hospital to be that much more enticing.

His character, while always great even when he's just telling Reese what's going on behind his computer, really opens up when he's out and about.

We get to see his distaste for hospitals, his concern for the person of interest and how uncomfortable he is when having to help assistant a surgery.

Finch even managed to have his own chance to spring into action when he bashed the backup doctor over the head. Although his best moment had to be staring in horror and saying, "Oh dear. Look at it. It's squishy."

Of course, it's a real treat that the episode, like its previous counterparts, goes beyond just saving the one person. Instead, while all of the doctor suspense and spy vs. spy was taking place, Carter was being pulled more into Reese's unknown world. She was on a parallel mission that had nothing to do with the hospital and business blackmail.

Turns out Snow really wanted to let Reese know that "she" is going to do something terrible.

As viewers, we know that "she" is Reese's former CIA partner, Kara. The question remains, though, is she just extracting revenge on the people who betrayed her or will she turn into her own formidable foe that Reese has to take out?

Similarly, Carter's interests in the whole situation really do bring up a dangerous notion that Reese pointed out. But, yes, we do really want to know more.

Sean McKenna is a TV Fanatic Staff Writer. Follow him on Twitter.

Tags: Person of Interest, Reviews