Patrick Jane is always in control, even when he's balancing on the ragged edge. And "Cherry Picked" certainly featured him walking that line.
Jane's desperate to find Lorelei and he's not about to give up the hunt. I wasn't surprised that he was interviewing all of the prison transport guards, but it was a little disconcerting to realize he was shutting Lisbon out of the search.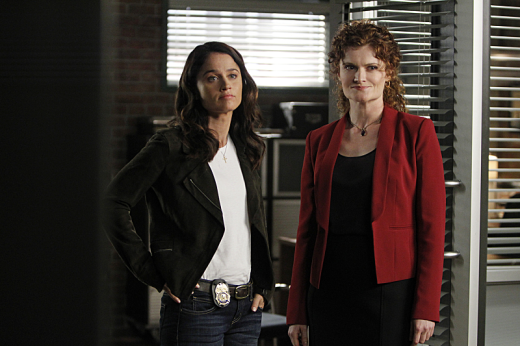 Why? Was he afraid it would somehow put her in danger? Or did he fear even having her involved could somehow leak the information to a Red John conspirator?
Jane's interactions with Walter were disturbing. Watching Jane read the lonely, twisted man gave me chills. I wasn't sure whether to despise Walter or feel some ounce of sympathy for his pathetic existence. I half expected to hear Walter take his own life with a gunshot as Jane walked out the door.
The kidnapping with a twist turned out to be more entertaining than I expected. My first thoughts were that Isaac was in on it. I couldn't figure out why else he hesitated with the ransom or generally acted like he had the temperament of a rebelling 14-year old. 
But as Jane put it in this The Mentalist quote:
 Isaac's always been the family scourge hasn't he? Stubborn, arrogant, insensitive. | permalink
Yeah. That about covered it. Oh, but don't forget selfish embezzler too.
The kidnapper on the phone definitely came across as an amateur and I started to suspect Sloan as she begged Isaac for the ransom money. Somehow she seemed more worried about the cash than her husband. The woman was seriously cold as she said her last goodbye to Gary over the phone after ordering his murder.
Other thoughts:

Jane's what are you wearing? line to Isaac over the phone was a bit cruel but so funny I laughed out loud.
Did anyone else think Lisbon's blouse in the beginning looked like it was part of a pajama set or was it just me?
In a house full of law enforcement officers why was Jane the only one to notice dog bowls but no dog?
We really need to see more of of Cho this season.  His great deadpan lines have been severely lacking.
So what did Walter do with Lorelei? Where did he take her? Who has her and is she even still alive? And now that Patrick has the information, what will he do with it and will he let Lisbon in on his plan? 

C. Orlando is a TV Fanatic Staff Writer. Follow her on Twitter.

Tags: The Mentalist, Reviews
Want more The Mentalist?
Sign up for our daily newsletter and receive the latest tv news delivered to your inbox for free!
More From TV Fanatic
On tonight's Gang Related, Ryan was forced to make a difficult decision. Which side did he chose?
On the latest episode of Satisfaction, Neil learns an important lesson about being honest with himself from Adriana while Grace struggles on her new job. Read on for analysis.
On Rookie Blue, Oliver turns down extending his contract as Acting Staff Sergeant until Duncan's dismissal hearing turns unpredictable. Read on for more.

On tonight's The Bridge, Marco is made an offer that he initially refuses. Will he agree to go after Fausto?
---