Before we sit down to turkey, stuffing and football, the TV Fanatic staff has gathered around to give thanks.
For a certain actor's abdominal muscles. For one show's wardrobe choices. For the ending of one drama's most serious relationship.
Read on to learn what characters, outfits and developments we're grateful for on this holiday and then chime in with your own answer to this question: What on television are you most thankful for?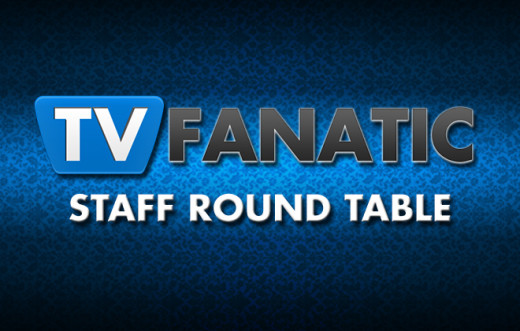 Matt Richenthal: I'm thankful for our loyal TV Fanatic readers, who make my job as Editor-in-Chief a pleasure and an honor. We sincerely appreciate your readership. Also: that I no longer cover Glee.

Miranda Wicker: The breakup of Stefan and Elena on The Vampire Diaries. Finally. Now give me more Damon/Elena balcony scenes for Christmas!

Steve Marsi: Emily VanCamp's costume designer.

Dan Forcella: Early cancellations of 666 Park Avenue and Last Resort. That's two shows I now don't need to play DVR catch-up on.

Jim Garner: I'm thankful for DVR. For without it, I would not know all of you.

Kate Brooks: I'm thankful for Emily Vancamp's perfection in her portrayal of Amanda on Revenge! I'm also thankful for Stephen Amell's shirtless scenes on Arrow.

Nick McHatton: I'm thankful for the Pretty Little Liars' casting department.

Carissa Pavlica: I'm I'm thankful that ABC Family is about a new kind of family, one that cares only a few times a year about its kids, because without it there would be no PLL, Lying Game or Bunheads and they are full of glorious mayhem my family would never have allowed.

Chandel Charles: That Psych finally set a premiere date for Season 7.

Neal Lynch: I'm thankful for discovering Duck Dynasty and for that show's confirmation of my suspicion: money can make any man marriage material.

Leigh Raines: That Gossip Girl is finally ending. It's been one of my favorites for years but it has been butchered so badly that it needs to be put to sleep. In general, I'm grateful for my guilty pleasure channel: the CW.

Christine Orlando: That Patrick Jane of is this close to figuring out who Red John is. My TV viewing is not complete without a competent serial killer story to follow and this one still intrigues me after five seasons... that Once Upon a Time has made Snow White, Red Riding Hood and many other boring fairy tale characters into the kick ass heroines I longed for as a kid... that Days of Our Lives is showing its first gay relationship and making it fun and sweet and sexy. Well done. Such fun.. that Sons of Anarchy makes me hide my eyes but keeps me coming back for more... that Parenthood makes me laugh and cry, every single week... and especially that Castle and Beckett are finally a real couple. They are the cause of my giddy smile every Monday night.

Your turn, TV Fanatics. What/who are YOU thankful for?

Matt Richenthal is the Editor in Chief of TV Fanatic. Follow him on Twitter and on Google+.

Tags: Round Tables