That is what we're talking about! 
Two and Half Men has been on fire the few past weeks and "Something My Gynocologist Said" kept the humorous flame burning red hot.
The title of the episode already set the characters up for some awesome jokes about gynecologists and their area of specialty, outlined as always in our Two and a Half Men quotes section.
Crudeness aside, the half hour was filled with enormous character development for our resident healer, Alan.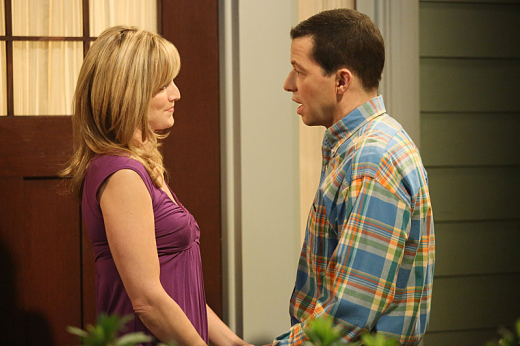 Like I pointed many times recently, the writers have decided to redefine Jon Cryer's character. No longer is he pure comedic fodder, he is now a full functioning member of our trio. He's being a better father to Jake and a good boyfriend, which is a welcome sight.

What the show runners have to do is find a balance between the Alan who loves his son so much and the Alan who is just too cheap to fill his car up with gas.

In this case, Alan decided he was ready to commit long-term to Lyndsey, but not after some stalling. I don't blame him for his hesitation, considering his ex-wives, Judith and Kandi, have dealt him a few severe blows to the heart.

He also got inspiration for a very unusual source. That old man was basically Alan with a hunched back and a walking stick and he sent a message to his younger doppleganger: don't end up like me.

Walden, meanwhile, is still very lonely. He just needs someone to take care of him like Bridget did, which is why Cherry made such an impression. Obviously he wanted more and was ready to make a commitment, but his new friend wanted none of that.

Poor Walden. He is still scoring in the bedroom, but when it come to the game of love, the man he can't catch a break. Still, it is still pure fun to watch his "sexploits," don't you think?

Finally, Jake has returned back to camp and is now back to just Skype-based cameos. Oh well. It's better than going AWOL.

Tags: Two and a Half Men, Reviews