TBS has another chance to prove it's Very Funny tonight, as Wedding Band premieres at 10 p.m. EST.
The one-hour long sitcom stars Brian Austin Green, Harold Perrineau and Melora Hardin and centers on a group of friends who bust loose every weekend at weddings and Bar Mitzvahs, having fun and meeting their fair share of women in the process.
Based on a group of friends, who have jobs and responsibilities during the week but break loose on the weekends and become the best wedding band you'll find. Of course there's also lots of romantic entanglements and other mishaps that pop up to keep the laughs coming.
In anticipation of the series, and having been entertained by the opening episodes I've already screened, I recently talked to Green and Hardin about the series...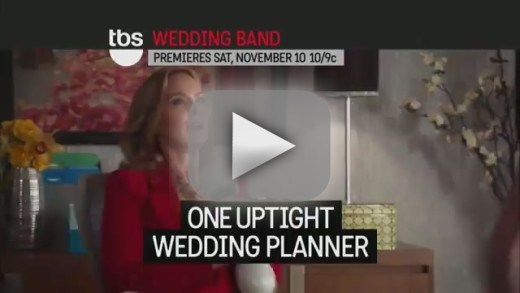 TV Fanatic:  I was really impressed that the band is not actually laughable. You guys are very good. So talk to me about that being an important element of the show.
Brian Austin Green: We can play comedy songs, which only kind of last for so long, or we can stick with the element of what the show is, which is that our job is to make this believable, our job is to make this band honestly the most kickass wedding band anybody has ever seen. And I'm just saying that alone there's comedy in that. Like yes, they're a stadium style wedding band. I mean, you just never hear or see anything like that, let alone sit at a wedding [and] hear these amazing grand songs, and have pyrotechnics and confetti cannons going off. And throwing guitar picks out to the crowd.

Melora Hardin: Right, and they've got Rutherford breathing down their neck that it better be damn good... and that's why she takes them on in the first place. And they care so much about the event in a whole other way than Roxie cares about the event, but I'm glad you recognize that because they are awesome.

And when I looked at the episodes I was just like, it's so interesting to me that the show has all this music in it but it feels really fresh and it's actually kind of fresh because it's using music in just the way that music is. It's not like we're breaking into song like Glee does, like musical style, but it's just using music in the storyline in a truthful, honest way.

TVF: You made me re-appreciate Air Supply, so thank you.
BAG: Damn right we did!

Jim Halterman is the West Coast Editor of TV Fanatic and the owner of JimHalterman.com. Follow him on Twitter.

Tags: Exclusives, Interviews, Promos