Santa visited CSI fans early this year, as we received the unexpected gift of a Sara-centered episode on "Risky Business Class." It was based on a former colleague of Sara's, Doug Wilson from the NTSB, asking for the help from the crime lab.
First, I'm thrilled that we got an episode that focused on this team member, specifically her marriage to Grissom. Many fans have wondered why there isn't more mention of Grissom or why Sara doesn't seem to acknowledge that she's even hitched.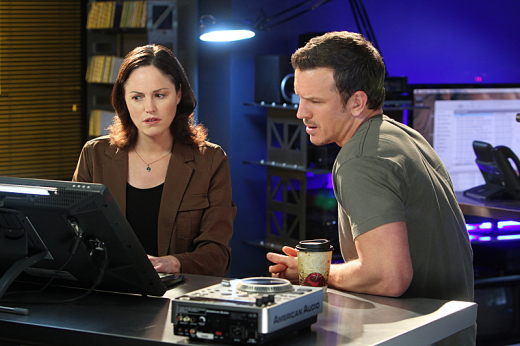 I do have a couple of questions, though: 
How long ago was she in San Francisco to work with Wilson? Their conversation gave clear indication it had been several years, but if it was before she came to Las Vegas that would be more than 13 years ago. Talk about carrying a flame for someone for a long time. 
The preview teased "An old lover of Sara's." Did anyone get the feeling they had been lovers?!? I sensed an attraction, but not that sort of vibe. Then again, Jorja Fox can be a bit tough to read, so maybe the crooked smile meant lover. 
Either way, I hope we get more of Sara and her relationship; I would like to see it go somewhere. It just seems like a boat anchor around her neck; she can't date because she married to a ghost, she can't hold bidirectional conversations because William Petersen isn't really on the show, we only get one side if she talks to him at all. 

It's just frustrating watching the character float in limbo!

On the other hand, you can tell it's December as Donna Hoppe (Pamela Reed) made a return visit approximately one year after her last visit.

I'm not sure if they are trying Reed out to see if she would work as a series regular or frequent visitor, but she was great. She fills in a gap in research and knowledge that helped when she was here before and she certainly helped this week. 

Overall I'm giving the episode 4.2 family trees for a fun return of Reed and a much needed revisit to the Grissom family line. I hope everyone has a safe and happy holidays and we will see you all back here with the return of CSI in January.

Jim G. is a TV Fanatic Staff Writer. Follow him on Twitter.

Tags: CSI, Reviews