Welcome back to TV Fanatic's Grey's Anatomy Round Table!
Last week's Grey's Anatomy review broke down "Love Turns You Upside Down" in great detail. Now, TV Fanatic staff members Sean McKenna, Christina Tran and Courtney Morrison have assembled for their weekly Q&A discussion.
Read their answers below and weigh in with yours!
----------------------------------------
1. What was your favorite scene from the episode?
Courtney: My answers are always pretty obvious. Cristina always takes the top prize. Her calling her interns by the dwarf names continuously cracks me up. Especially when she threw in "Doc." Classic
Sean: The return of Neve Campbell as Derek's sister. I mean she was in Wild Things and Scream, so she's a pretty big deal. Good to know she's there to help a brother out.
Christina: Best scene was at the very end as the interns watched in awe of their residents just being the rockstars that they are.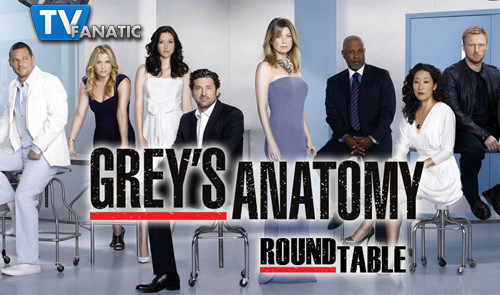 2. What was the most interesting case of the week?


Courtney: I really enjoyed Alex and Jo's case. It gave us a chance to learn more about her and see Alex do what he does best.

Sean: I liked April and Shane on the lumps and bumps. It wasn't the prettiest or the most unique, but it was nice seeing them work together. Plus, Shane got a chance to show a bit more of his personality and character this week.

Christina: I liked Cristina's cases with the babies. However, I didn't care too much for Grumpy and Perky's immature behavior.

3. There was a big focus on the interns this episode. Who is leading the pack as the intern doc?

Courtney: Shane Ross. From the moment Gaius Charles signed on, I wanted him to be the best and according to Callie and Avery, looks like he is leading the pack.

Sean: Definitely Shane Ross. He seems focused, excited, and willing to learn. I want to see a lot more from him, but really, most of the interns just aren't floating my boat interest wise. 

Christina: In first place, we have Shane. Following him close behind, there's Jo. Shane seems very genuine, and I feel like Jo's compassion is going to keep her moving right along.

4. We've always been told that one intern won't make it. Who will it be from this group?


Courtney: Leah. Pretty much because I just learned her name and have no interest in her whatsoever. I can't be alone in that, right?

Sean: Half the time I can't even remember their names. Grumpy, Lumpy, I don't care. I guess I'm hoping it's either one of the two that were fighting this episode (Leah or Stephanie, I think?)

Christina: You're definitely not alone, Courtney. I just don't have a good feeling about Leah (almost Doc).

5. Shane is going to help out Callie and Avery on Derek's surgery. Will it be successful or is Derek done operating for good?

Courtney: Either way, the arc will be interesting. Derek's return back into surgery will be filled with pressure and tension. Can he live up to his name? If for some reason it doesn't work, he can now be a teacher (which I am starting to enjoy) and be home with Zola and the *hopefully* new one on the way. Please Shonda. No miscarriages. My personal hope? Successful.

Sean: It will be a success for sure. The story arc is interesting in the prospect of what would he do if he couldn't perform, but I just can't see the show taking that big skill set away from McDreamy.

Christina: The surgery will be a success. McDreamy will be back in the O.R. better than ever before. Mer will have a flawless pregnancy. They'll live happily ever after! Hey, a girl can hope, right?!

What do you all think of this week's Grey's Anatomy? Share your responses in the comments below!

Tags: Grey's Anatomy, Round Tables