Happy Endings Review: Helmets and Handshakes
by Leigh Raines at .
We all remember what happened to Penny in the Happy Endings season premiere episode when she ditched a base jumping Brian Austin Green and fell down a million flights of stairs. It seems the body cast was only the first stop on Casey Rose Wilson physical comedy tour.
In "P & P Romance Factory" we met...the helmet.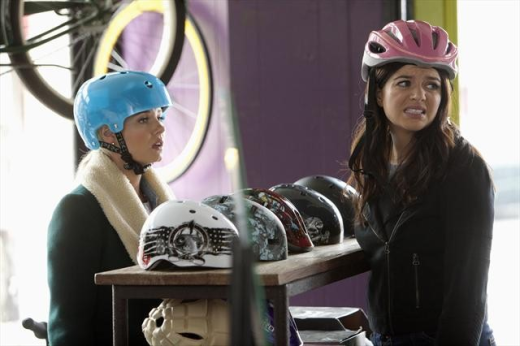 No, not either of the colorful activity used helmets in the photo above, but Penny's prescription flesh colored helmet she must wear after her multiple head injuries. I have to say, I didn't realize how much that girl actually bangs her head until they showed that flashback reel. Ouch! 

However, more painful for Penny than wearing the helmet that makes her look like a "half eaten crayon" is the fact that she met a total hottie at the helmet store and has to find ways to hide it from him. Cue an endless parade of activity dates that require head gear and a sensual moment with a roll of paper towels. I'm glad she told him the truth, because Nick Zano wasn't convinced that anybody was getting turned on by the quilted quicker picker upper.

Something that was a major turn on? How damn funny Brad is. Damon Wayans Jr. wins all of the awards. I swear if he doesn't get an Emmy for best male in a comedy, I'm going to personally write a scathing letter to people in charge. Eric Stonestreet, I adore you but your reign is up. Best portrayal of a trophy husband, ever. Even though it was of course sexist and stupid that Jane had to stoop that low to fit in, it was definitely well done and funny.

Rob Corddry is always good for a laugh and I dig that he is Jane's boss at Car Czar. Jane and Brad also play off of each other incredibly well. But you all already know that! One thing you don't know is that I've wanted a pet pig ever since I saw the movie Babe. Despite the intense squealing, that was the cutest little pet piggy I've ever seen!

The only glitch in an otherwise great episode was the whole handshake storyline. First of all, I don't buy that Dave was ever a bully. "Down low, too slow." He didn't come up with that, but whoa with the My Girl reference. Way to tug our heartstrings Dave Rose! 

Our beloved Max would never get fist bump dissed by a douche who rocks a TRIPLE popped collar and uses the word "broseph". Never. Dave, however, would definitely drown his sorrows in cheap sangria. That part was totally believable. 

What did you think of this week's Happy Endings and do you like the nickname "P & P Romance Factory?" It looks like Pete is sticking around for at least one more episode. Hit the comments and don't forget to check out our Happy Endings quote section! 

Leigh Raines is a TV Fanatic Staff Writer. Follow her on Twitter.

Tags: Reviews, Happy Endings
From Around the Web