"Kahu:" Guardian.
Merry Christmas and Happy Holidays to everyone! To finish out 2012 with the Five-0 team, we were treated a bit of a pot-luck episode, as a little bit of everything thrown in....
Chin-ho has an uncle: George Takei supposedly guest-starred this week. But did you catch him? As usual for Hawaii Five-O and its name guest stars, he was in the episode for one scene that lasted about five minutes. 
I really hope that Takei is asked to come back for a more substantial contribution. He is such a great actor and you could tell he was having a ball playing the moonshine-wielding uncle.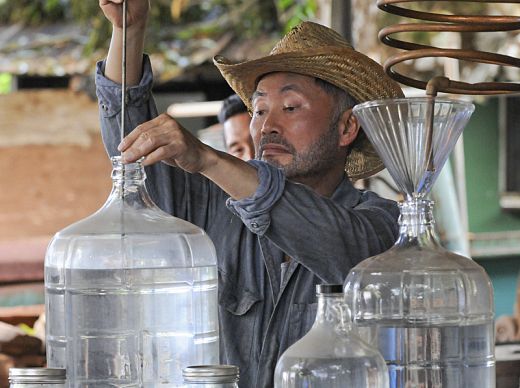 Kamekona bought a helicopter. Did anyone else think Kamekona's previous mention of doing island tours was meant to be funny? Apparently someone wants to see the 400-pound Samoan squished into the front seat of a helicopter made for someone nearly half his weight. 

Oh wait, that's right – he spent $170,000 and doesn't have his pilot's licenses to even fly the silly thing, making it the most expensive paperweight he has ever owned.   Seriously, Mr. Lenkov, let this one go, we don't need it.

McGarrett is clueless on dates: Who in his/her right mind thinks eating from a cardboard box in a parking lot is considered "some place special?" I know McGarrett doesn't like to be wrong, but honestly man, sometimes you just have to bite the bullet and admit you screwed up.

Okay, to be fair, he sort of did as he recreated one of the most recognizable scenes from An Officer and A Gentlemen when he showed up completely dressed up and carried Catherine away. Hey, Steve, for the record, "I'm sorry" is a helluva lot easier on the wallet. 

Catherine kicked some ass. I have to give full credit to Peter Lenkov and his team: this week they had Catherine in situations that made perfect sense and even provided a quick nod to her being on leave for two more days. 

Did anyone else wonder if she got combat training from Natasha Romanoff, (a.k.a. Black Widow in the Avengers and Iron Man movies)? She was awesome with the combat against Rizzi, that over-the-shoulder with the legs move that she use to throw him down the stairs was pretty cool.

All in all, it was a fun outing leading into the holiday season. I'm giving the episode 4 "Oh-My"s for a glimpse at George Takei, but docking this a stocking for not using him to a proper extent.

Jim G. is a TV Fanatic Staff Writer. Follow him on Twitter.

Tags: Hawaii Five-0, Reviews
Want more Hawaii Five-0?
Sign up for our daily newsletter and receive the latest tv news delivered to your inbox for free!
More From TV Fanatic
Jane and Maura get drawn into the world of rare books and coded confessions when a book seller hiding a secret is murdered on Rizzoli & Isles.
On Perception, Daniel and Kate investigate an art heist. Also, Daniel must make a decision about his love life.
Things on Pretty Little Liars looked pretty darn bleak this week as Hanna's friends started to get sick of her but Zack couldn't get enough. Read the review for more insight into the latest installment!
Evan, Paige and Bob confront Russel about his rug theft, while Divya and Jeremiah treat a woman desiring to be a mom. But were those all the surprises the Hamptons had to offer? Read our review of "I Didn't See That Coming" now!
---