Another week, another full notebook I need to empty out, as my travels this week have taken me to Toronto and the set of 2013 Netflix series Hemlock Grove (more on that in the new year), but I also managed to grab some good scoop from American Horror Story and Portlandia, while chatting up the hunky runners-up from The Amazing Race.
Let's go!
AMERICAN HORROR STORY: ASYLUM I'm still a little torn over FX's hit anthology series. Granted, the stories are all over the place, but I've learned that I enjoy the show more when I just climb in and go with wherever it takes me. (Anyone agree? Or disagree? Leave a comment!)
But I absolutely love seeing Jessica Lange be all sorts of crazy as Sister Jude. On the phone this week, the Golden Globe winner for American Horror Story Season 1 talked recently about how different things have been for her on the creative level with the drama.
"I've never worked this way before where it's so fluid between the creators, the writers, and me. Usually you get a script and it's there and it's start to finish, and kind of evolves and morphs as we go along."
Lange said that she trusts the writers in what they have Sister Jude do, but can also voice her own thoughts and concerns: "I do have more input but then there are of course limitations within the structure of the whole story and the trajectory of where it's going. But it's been interesting. It's been an interesting challenge."
The star, of course, has already signed on for Season 3.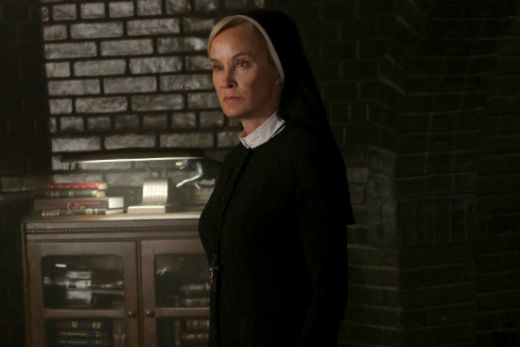 PORTLANDIA We all have our favorite underdog shows and mine is IFC's Portlandia. Starring comedic geniuses Fred Armisen and Carrie Brownstein, the series features sketches and a loose storyline structure that overall is not only intelligent but, most importantly, extremely funny. The actors talked earlier this week about tonight's special Winter In Portlandia (10:30pm on IFC), which serves as sort of a teaser for the third season that kicks off with back-to-back episodes on January 4. 

"We knew we had an 11th episode that we were going to make and that it was going to air in advance of the regular season," said Brownstein, "so that it will operate as sort of a special. And with it airing in December, we wanted it to be distinct from the rest of the season because with season three, we really wanted to go deeper into some character development... and we kind of needed it to be a standalone thing."

And while the show does revisit some of the characters, there are also new ones always popping up, which keeps things more interesting for Armisen: "We make little changes just so we're not repeating ourselves and that's kind of hard. If we let it sit back and go like, 'this worked before, let's just do this again,' it wouldn't be as good." 

[You can catch episodes of Portlandia on Netflix. Nay, you should go catch them on Netflix!]

THE AMAZING RACE I'm selective about my reality programs, but I do favor competitions like The Voice, Top Chef and Dancing With The Stars over anything with 'Housewives' in the title. And it helps when a series features the best host in the business (Phil Keoghan) and is still going strong after its just-completed 21st cycle.

The winners this season were underdog couple Josh Kilmer-Purcell and Brent Ridge (aka The Beekman Boys), but giving them a run for their adventurous money were the two Chippendale dancers, blonde Jaymes Vaughan and brunette James Davis. If the guys proved anything, it's that they are much more than just gorgeous eye candy, as they were courteous, helpful and overall kind to the other teams.

Vaughan talked about wanting to win the million dollar prize to help his father, who is battling cancer, and went into more detail with me in Las Vegas last week about why it's a goal of his.

"I don't want my dad working while he's doing chemo," Vaughan said before the Chippendales show at the Rio Hotel & Casino. "It's ridiculous. He'll go to work in the morning, leave, go to chemo for a couple of hours, exhausted and he can barely move, go back to work, leave, go to radiation, go back to work and check out and go home. It's not something you're supposed to be doing while you're going through that. And so that's our main goal."

Though the guys didn't win the million, they're busy fundraising for Jaymes' Dad and aim to begin a charity for other cancer fighters. (If you'd like to donate, visit their ForgetCancerNow website.)  And, yes, the guys insisted I stay for the Chippendales show after our interview. All for the sake of journalism, right?

That's a wrap on this week's Notebook! Anything else you're dying to know about your favorite show? Leave a comment here or you email me directly at jim@jimhalterman.com. And remember: get all your TV scoop by following @TVFanatic.

Jim Halterman is the West Coast Editor of TV Fanatic and the owner of JimHalterman.com. Follow him on Twitter.

Tags: The Amazing Race, American Horror Story, Spoilers, Jim's Notebook