Nate: Let's go steal Christmas. 
In the third of three episodes leading up to the Christmas night Leverage Season 5 finale - as teased in our interview with Dean Devlin - we witnessed the team working to keep kids safe in the "The Toy Job."
Right off the bat, I have to mention that this is the first time in ages we've heard a reference to Nate's son. The heartwarming story at the end about the trumpet his dad gifted him and that he gave Sam was a sobering reminder that Nate has lost his father and his child in the last several years.
Nate, you are a stronger man than I.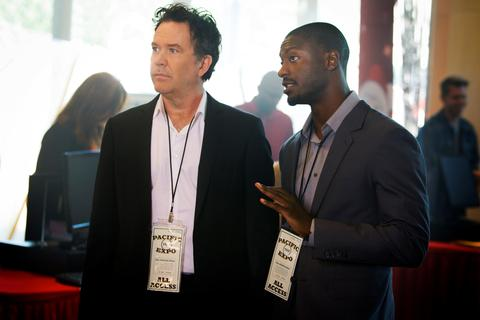 On the flip side, we had Parker and Sophie, who love Christmas and were not fans of Nate's imposed "no gifts this year" rule. Apparently Parker got a $100,000 motorcycle from Hardison in 2011. Way to set the bar for the rest of us, Hardison! 

Eliot was the wild card for me in this episode. Was anyone else surprised by his paternal leanings of being fair but strict? No? Yeah, me neither. However, the soft yet sensible side of him scolding Hardison for putting stuff in his fake blog that would look stupid did surprise me, and was worth a pretty good chuckle. 

I do wonder if Christmas has become to commercialized. Could we be sold on a creepy-looking-two-faced doll just because someone tells us that we want it? I know that products like the iPhone and iPad get a bad rap for people wanting them simply because other possess them. But, in reality, everyone has one because they are so damn useful and convenient. Maybe I'm over thinking the product and it was just a part of the con. 

As we close in on the Leverage season finale - yes, airing next week on Christmas - I'm still hoping for a holiday miracle and TNT decides to give Leverage a sixth season. While we won't know for a little while the fate of our favorite team of would be Robin Hoods, we should all savor next week's episode, as it may well turn out to be the series finale. 

Overall I'm giving it 4 creepy dolls for a fun holiday-themed episode that gave us a little more back story on Parker. 

Jim G. is a TV Fanatic Staff Writer. Follow him on Twitter.

Tags: Leverage, Reviews