Once Upon a Time Set Scoop: Sweaters, Sparks and Spells!
at . Comments
Will Emma and Mary Margaret make it back to Storybrooke? What about Cora and Hook? Will Charming emerge from his sleeping spell? Will good triumph over evil?
With so many questions, and with a little help from the Once Upon a Time cast after time spent on its Vancouver set, TV Fanatic is here to help you sort out the major questions going into Sunday's midseason finale, "Queen of Hearts."
----------------------------------------
Will Snow finally get out of that pink sweater? 
"I want to burn that sh-t," said Ginnifer Goodwin, admitting she didn't take into account how being trapped in the fairytale world would limit Snow to a single article of clothing. "In the first episode, I decided because it was probably 70 degrees out that I needed to lose my winter coat because it was just too damn hot that day... and had I held on to my winter coat, I would have subsequently had it in nine episodes in the forest when it was below freezing."
Villain or Hero?
The dastardly Rumple has teamed with Regina to help bring back Emma and Snow. So has he turned over a new leaf? Robert Carlyle doesn't even consider that question, really: "You don't ever play the villain thinking 'I'm playing the villain', and the villain doesn't really know that they're the villain most of the time unless they're completely crazy. And I think that everything he does, he's got some kind of reasoning for it and he'll always give you a chance. He'll always say 'well, do we have a deal?' You have to listen very carefully to the words."
However you view this terrific character, rest assured he won't be changing his way, says Carlyle: "I think that Gold or Rumple will use people as much as he's going to get something out of it. If he needs them then he'll work with [Regina], if he doesn't, he'll let her go."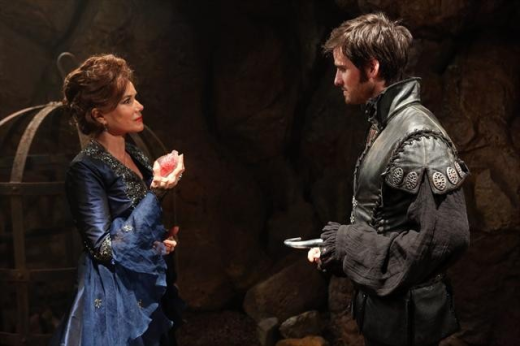 Is Hemma on the horizon?
Though they're not exactly on the same team, there have been some definite sparks between Hook and Emma. Colin O'Donoghue, who is setting hearts aflutter as Hook, understands why they'd be drawn to each other: "I think they are kind of kindred spirits," he reasoned, adding that he'd be fine plunging into some romance with Emma. "I'd like to see how that would work."

…and what about Rumpelle?
"Something big is coming up," promised Emilie de Ravin, who, as Belle, helps Rumple/Gold show a sweeter side. "We have a really passionate relationship that is very and very honest but at the same time there is this constant struggle of magic over love, love over magic and he wants the love over the magic but the magic has been a part of him for God knows how long."

Are those romantic sparks simmering between Red and Charming?
Meghan Ory said she's aware some fans have read into her closeness with Charming during these Once Upon a Time Season 2 episodes. Is there anything to it? "One of the things that I really like about that relationship is that there isn't that underlying thing, which you don't see a lot." She also says that if Red looks at Charming in any way it's the same way a brother and sister would look at each other.

Will Regina and Emma work together for the sake of Henry?
While our Storybrooke people are working together to get Emma and Snow home safe, can Emma and Regina finally stop the 'He's mine!' feuding? "I don't know that over the long-run it will," Jennifer Morrison said. "I think, momentarily, Emma wants to have hope that this person can change and that if they both really want the best for Henry, that there's hope for that."

Why exactly did Charming go to the Netherworld when he knew he might never escape?
Of his beloved Snow, Dallas explained that Charming "needed to see her just one last time. I just think there is just something so beautiful about that, he just needed to see her. But the thing is that he knows her, he knows her so well. He knew that she would be in there, he just knew it! And he was right! And he goes in there and he sees her and I just think it's a great moment."

With evil Mama Cora still on the prowl, can Regina really not use magic?
Regina may be kicking herself for promising Henry that she won't use magic, but Lana Parrilla explained that there's also a feeling of relief: "I think magic has left a really bad taste in her mouth. It's been 28 years since she's used magic successfully."

The actress also said that she has her own theory about what magic means to Regina  and why she initially created Storybrooke as a world without magic: "If we go back to what [Regina's] always prophesized which is, 'Magic is bad, magic is evil,' before she became the evil queen, I think there's still an element of that and I feel like she did create this world to kind of protect herself and everyone else."

Tags: Once Upon a Time, Set Visits, Spoilers, Exclusives