The holiday season arrived tonight on Up All Night. "First Snow" showed just how taxing the time of giving can be, as Reagan and Chris struggled to create a worthwhile Christmas card.
Despite having yet to utter a single line, Amy took center stage when the focus switched from her parents to their adorable daughter. I'm going to guess it was the Chris in her that inspired the key hiding... or perhaps her Auntie Ava has rubbed off on her.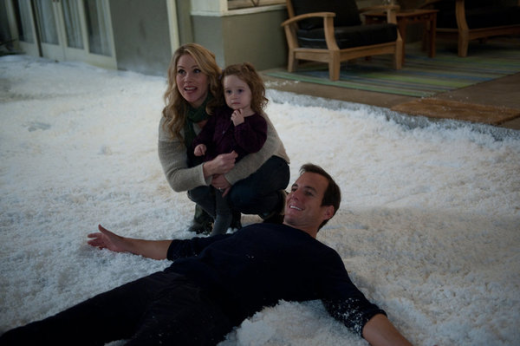 Chris self consciously likened his head to a Pez dispenser at one point, but like the candy holder, each time he opened his mouth he seemed to treat us with an amazing pop culture reference, like Richard Marx and The Wire.  

He and Reagan never did get to their mountain destination, but their road trip yielded some good laughs, such as Reagan being jealous of men peeing outdoors, which made this week's list of best Up All Night quotes.  

The interaction between Scott and Ava threw me a tad. It still is not clear if these two are destined to hook up or just fill scenes together. Scott's home made frame and picture was a great gift idea, but seemed to fuel Ava's desire to upstage him instead of serving as a possible turn on. Independent of each other, I absolutely love these two characters, but if the two are to share more scenes I think their relationship needs to be defined more. We did start to see that angle take shape as Scott shared his scrapbook of Ava souvenirs with her, so perhaps they are on the right path after all. 

Following the lead of Washington, Ava spent money she didn't necessarily have and gave her dear friends a Christmas gift they will never forget. 

Come December 25 there should be no coal in the stockings of this show, if you ask me. What did you think? 

Tags: Up All Night
Want more Up All Night?
Sign up for our daily newsletter and receive the latest tv news delivered to your inbox for free!
More From TV Fanatic
Christina Applegate is leaving Up All Night. That sitcom is under major reconstruction.

Who's your favorite NBC star, Blake Shelton or Will Arnett? Vote in the first round of the Tournament of TV Fanatic: NBC edition!

Who's your favorite NBC star, Will Arnett or Rainn Wilson!? Vote in the first round of the Tournament of TV Fanatic: Fox edition!

Tonight on Up All Night we see where it all began as Chris and Reagan tie the knot. Their big day is belittled though when Scott and Ava share some big news as you'll read in our review.
---