Hmmm... perhaps it was not all just a publicity stunt.
Months after word broke that new American Idol judges Mariah Carey and Nicki Minaj didn't exactly get along (the latter reportedly threatened to shoot the former, Mariah responded by increasing her security detail), the panelists, Fox's reality chief Mike Darnell and producer Nigel Lythgoe met with reporters in Pasadena.
And the tension was apparent for all to see and hear at the Television Critics Association press tour.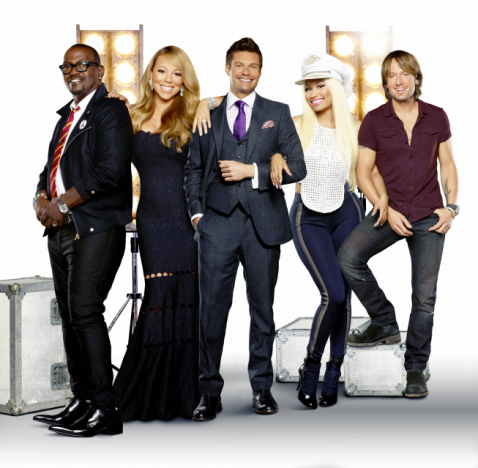 "This is a very passionate panel," Carey said. "There's a lot of strong personalities... The fighting is what it is. This is American Idol. It's bigger than all that. It's about the next huge talent superstar that will come from this show."
Later int he Q&A, Carey said under her breath that the feud with Minaj was "one-sided," while Nicki attempted to remain cordial.
"She's one of my favorite artists of all time," Minaj said of her fellow judge. "She's really shaped a generation of singers. To be on a panel with her, it's kind of crazy. All these singers that come in, they aspire to be a Mariah Carey."
Other notes from the panel:
276 singers made it to Hollywood Week. Boys and girls will remain separate until the top 10.
The girls are "stronger than the boys," teased Lythgoe.
Acknowledging The Voice and The X Factor, Darnell said: "There's too many of these shows on the air and they're all taking each other down a little bit. But this is still the king of them all, and the only show that makes stars. Period."
American Idol kicks off a two-night premiere on January 16. Bookmark TV Fanatic now for complete show coverage.

Matt Richenthal is the Editor in Chief of TV Fanatic. Follow him on Twitter and on Google+.

Tags: American Idol