Tonight, The CW takes us on a time warp back to 1984, where a young Carrie Bradshaw is growing up in the suburbs while simultaneously discovering both the big city and that big emotion know as love.
Yes, the same Carrie Bradshaw made famous by Sarah Jessica Parker on Sex and The City.
However, Carrie Diaries star AnnaSophia Robb stressed to TV Fanatic this weekend at the Television Critics Association press tour that this is a very different show from its predecessor. Just how different? The young actress clues us in below...
TV Fanatic: What would you say to people who are skeptical and are just going to say 'Oh, it's trying to be a young Sex and The City?'
AnnaSophia Robb: That's the nice thing. We're not trying to be a young Sex and the City. I'm the only similar character, but when they cast me they kept the intention that they didn't want me to be a copycat of SJP. It's a different world, it's a different Carrie.
TVF: Where did you start with your research? The book? SATC series? The pilot of Carrie Diaries?
ASR: I always start with the script because that's what we're going to shoot. I read the script and I was hesitant at first because I had applied to colleges so I was thinking I'm doing that route. It's a big commitment if it's successful but I read it and it and I went 'Wow, this is obviously a really strong character, really well written and it's something I could really grow with.' Carrie is always thinking and never stops.
I sort of fell in love with her character and then I talked with [Executive Producer] Amy Harris, the character, and she's so passionate and just knows the direction she wants to go with in the show. That really gave me a lot of confidence. She wrote on Sex and the City so she really knows herself.
Then I went to Sex and the City and watched all the episodes. I wanted to have little reminders of that's who I become but it's not trying to copy her performance in any way, shape and form. And then I read the books, of course, to make sure what to pull from.
TVF: The way the pilot is set up, it looks like Carrie will be stuck between high school and New York City. Will she succeed in one and fail in others?
ASR: It's both. In some areas, New York is a total escape where she can run off but at the same time Carrie is starting to realize this is a real working place. I think New York is going to become a real world instead of a fantasy for her and that's what she wants it to become. But, for now, it's all fun and games in the city. Back home is where the real drama happens.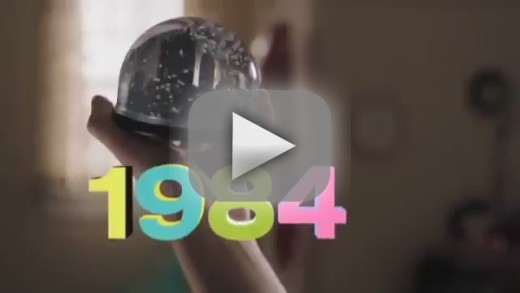 TVF: Is Carrie going to get pulled into her sister's problems or will she be more of the mother role?
ASR: Unfortunately, she's more of the mother and that's what creates the tension between them because Carrie is not the mother type and she doesn't want to be. She wants to enjoy her sister and have fun and have her own life. She's a selfish teenager at the moment and doesn't want to deal with her sister as much as she wants to have a relationship with her. Dorrit is forcing her into a role unbeknownst to her that she doesn't want to take one.

TVF: It's established that Carrie is the only virgin amongst her friends. Does that become a story point?
ASR: It's evolving. It's something we don't want to jump on or drag it out but we want to keep the viewers guessing.

TVF: Carrie's mother has passed away when we meet her. Do we ever see her mother in, say, a flashback?
ASR:  We have one flashback. I don't know if we'll continue with them but we have a Thanksgiving episode so it's just kind of family.

TVF: What was your knowledge of 80s music before this project?
ASR: Pretty damn good! I was one of those weird kids who never knew current music but was always listening to 80s. I think I heard The Cure and became obsessed and then went on a rant of The Bangles, Michael Jackson, Madonna, The Kinks…just weird things that I found on my ITunes playlist. I was just one of those kids.

TVF: This is The CW and this is a teen show but what do you think adults will get from the show?
ASR: I think it will be very nostalgic and there will be fun little Easter eggs on why Carrie wears a flower on her lapel and the Carrie necklace and why she doesn't cook, little things where you can watch and go 'Oh, I know what they're doing.'

TVF: The show will have the little nods to SATC but will we meet a young Samantha or a young Miranda…
ASR: Right now, we're establishing Carrie and really focusing on that and who she's going to become and I think as the show progresses we'll start to hopefully introduce more of the characters that other audiences are familiar with.

The Carrie Diaries premieres TONIGHT at 8/7c on The CW. Visit TV Fanatic the moment the premiere concludes for a detailed review!

Jim Halterman is the West Coast Editor of TV Fanatic and the owner of JimHalterman.com. Follow him on Twitter.

Tags: Exclusives, Interviews, The Carrie Diaries