Dallas is back for season two and it's better than ever, as the "Battle Lines" are drawn for an epic fight. Can the Ewings hold off Barnes Global when one of their own is in bed with a Barnes?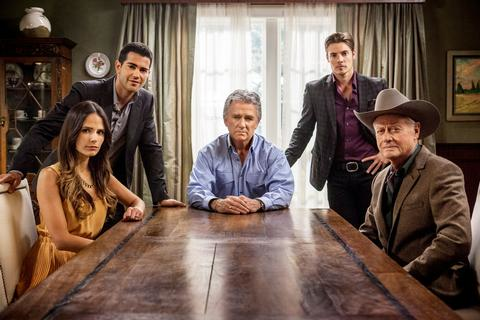 Pamela Rebecca Barnes returns.  My first question: where was Cliff? I couldn't believe he wouldn't want to be around to see the Ewings' reaction to this big reveal. He'd revel in it. I could hear his evil little laugh in my head so his absence seemed like quite the missed opportunity.
Or perhaps it was intentional in order to prove that Rebecca could fight this battle on her own...well, with her father's money and power at her disposal.
Was Christopher's reaction all bravado or did he really believe he could beat Rebecca Barnes at this game because that's naive? Rebecca's the mother of his unborn twins. With Barnes wealth on her side, he'll have quite a fight on his hands because this family has no problem fighting dirty. And neither does Rebecca's new partner.
The Ewing Bad Boy He's so good when he's being bad. Ten minutes into this episode and I was already rooting for John Ross to pull the rug out from under Christopher. In the feud between JR and Bobby on the original Dallas, I'd always enjoyed both characters, but Christopher just comes off as arrogant and entitled. It made me want to see John Ross crush him.
John Ross bedding Cartwell's daughter to get a trucking fleet was definitely something straight out of JR's playbook. As John Ross told his Daddy in one of many great Dallas quotes…
 If all of your dirty little tricks are as much fun as that one then it won't be long until the student is surpassing the master. | permalink
But even with John Ross spouting lines like "Love is for pussies," he obviously still had feelings for Elena and she for him. I'm not a fan of Christopher and Elena. I think she and John Ross make the more interesting couple and I'm hoping they find their way back to one another over the course of this season.

Harris Should Be Dropped Down an Oil Well At least that's what I'd like to see. I'm sure he'll get what's coming to him eventually and it should be oh so satisfying when it comes.  

My heart broke for Annie. I could almost understand why she never told Bobby about her daughter. It would be near impossible to move on with your life after such an incident. Perhaps she just never wanted to speak of it again.  

I was thrilled she finally told Bobby and his anger and hurt over Annie keeping such huge part of her life secret was believable. I think he was even more upset that she rushed forward and didn't let him help fix things. Men like to be able to fix things, especially Bobby.

Now what did Harris tell Emma about her mother? That was one cold look in her eyes when she sent Annie away but if the girl was abducted at 18 months she'd have no memory of what happened to her. Harris could have told her anything. Or she could simply not want to believe the people who raised her could do anything so heinous. Whatever her story I'm sure we'll find out soon.

Counting Your Chickens There's a reason why they tell you not to do that. Did the doctor's very public confession mean that Sue Ellen's hopes for becoming governor were over? Could JR help her find a way to turn this around with only a day left until the election?

This is Dallas. Anything is possible. 

C. Orlando is a TV Fanatic Staff Writer. Follow her on Twitter.

Tags: Dallas, Reviews