Elementary Review: The Suspended Consultant
by Kate Brooks at .
"The Red List" was a mind-boggling Elementary episode that centered around conspiracies and conspiracy theorists.
I'm not normally the kind of person to believe in such things, but tonight made me extremely curious. First, we had extremely suspicious deaths linked to what Sherlock was unraveling - and then more suspicious people followed. It had me anxious to see what happened at the end.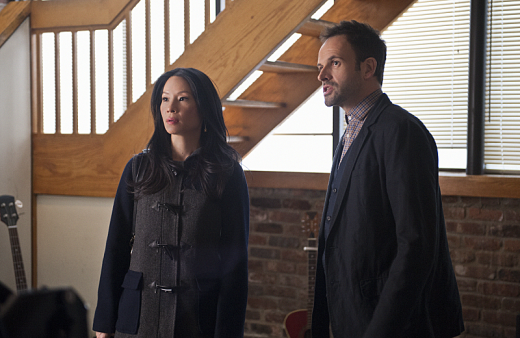 It was very entertaining to watch Sherlock weasel his way into the case on which he definitely wasn't consulting. As Detective Bell and Captain Gregson repeatedly said, he was a suspended Consultant.

You know, I'll never doubt Holmes' confidence in himself because we know that he's great and so does he. I'm smarter than everyone else I meet is a great example of just how confident Sherlock is. His ego was what the episode centered around.

Captain Gregson is obviously hurt and rightfully so. I don't disagree with Gregson when he said that Sherlock wasn't sorry about what he did. Though, I do believe that Sherlock is somewhat sorry for breaking Captain's trust, yet is too prideful to admit so. The final scene between the two of them and his reaction afterwards showed how he's at least a tad bit bothered by it.

Nice punch, Captain. The tension between those two is something I look forward to watching. I didn't expect the writers to throw such a wrench between them and I can't wait to seeing how this plays out.

It was funny to watch Detective Bell keep Sherlock informed. The scene with Sherlock texting him information about the crime scene was killing me! I want to know what person is sending Holmes all of the crime scene information. He has someone on the inside; now they'll never be able to suspend him.

Another part that I enjoyed was the scene with Watson and her therapist. We don't get into the psyche of Joan very often, except for these visits. I was glad to learn that she was trying to figure out or justify her reasoning for staying with Sherlock. I'm not convinced that Sherlock would be angry if he found out Watson lied to him. That kind of reveal could go either way. I feel as if Holmes would keep the fact that he knew from her for awhile before confronting her with the issue.

Not saying that it will BE an issue.

Watson came in handy again tonight when she diagnosed the man who had a seizure. Her knowledge and Sherlock's EXTREME knowledge make them such a great team. Honestly, these two as partners are unique. Unique like Castle and Beckett... but without all of the sexual tension.

Elsewhere, when it came to the case, I didn't guess the identity of the killer. I was too caught up trying to keep up with the tangle of information that was thrown our way. Honestly, though, what kind of trained operative pulls out a gun so obviously in public? That was your problem, man, get it together. The episode kind of lost my attention at this moment.

I snapped back when we finally got a moment where Sherlock guessed. However,, he guessed properly and solved the case, but it was nice to see him somewhat unsure.

Oh, Clyde. How I am disgusted that Sherlock wanted to put you in a soup and eat you. I was relieved to find out that he didn't.

Tags: Reviews, Elementary
From Around the Web