Is it possible that my favorite ditzy blonde, Alex Kerkovich, made a really timely and relevant joke? In Happy Endings second episode of the week, "Ordinary Extrodinary Love," yes, she certainly did!
Usually rebranding doesn't work. Look at KFC. I'm sorry but you guys will always be Kitchen Fresh Chicken to me! | permalink
You know KFC, right? The same place that was in the news today because a customer found a brain or kidney in their food? Yum! (warning: clicking on that link will bring you to the graphic image of said brain.)
Obviously this episode was written and filmed awhile ago but still: go Alex for the timeliness of that line! Especially since her taste in music dates her back to the era of Smash Mouth...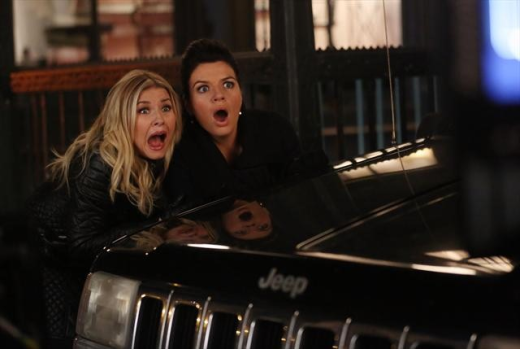 So it's been two days since we last saw the Happy Endings crew and Max is still in a man-drought. Thankfully, instead of another plot device plucked directly from an old episode of Friends, Jane tossed her Gwen Stefani party clothes back on and she and Derrick took Max man hunting. 

Well, it wasn't just the drought that had Max feeling like he had to convert to heterosexuality. Seriously was that an amazing rant or what?

That's right I'm straight now. From this moment forward, it's gonna be a steady diet of boobs and dudes. Dammit. I am no longer interested in men, I am only interested in...mankind. From this moment forward it will be a steady diet of chicks with...di-AMMIT! I love guys. My favorite thing to touch is va-penis. | permalink

Truthfully, half of the awesomeness of that rant was Adam Pally's delivery of it. Max felt like he didn't fit into any of the gay guy sub-groups that Derrick mentioned. After a disheartening night of clubbing and a close call of chest shaving with greek yogurt, Max decided to create his own dating ad. I have to say, that guy who showed up was pretty cute!

Speaking of cute guys, where has Pete been? Did he and Penny break up and I missed it? All of her office jokes about her being a train-wreck were kind of lame. Especially because Penny is ah-mah-zing. Duh. It doesn't matter that Penny still knows everything only a teenager should and knows lyrics to every cheesy pop song. Her PR 101 was pretty spot on.

What did you guys think of Brad and Dave's pissing contest? Who is more manly? I kinda think Brad would rock a purse on a regular basis anyway. And yes I know that it was also a storyline on Friends when Joey had a purse from Ralph Lauren. Sitcoms recycle storylines, c'est la vie!

What did you all think of this week's second dose of Happy Endings? Hit the comments! 

Leigh Raines is a TV Fanatic Staff Writer. Follow her on Twitter.

Tags: Reviews, Happy Endings