"Old Alabama" marked the return of Hart of Dixie Season 2. Finally!
It was Pioneer Day in Bluebell and remembering the past came with a price of one's sanity! From Lemon and Annabeth staging a fake break up to Zoe turning into Lemon Breeland, it was quite the episode!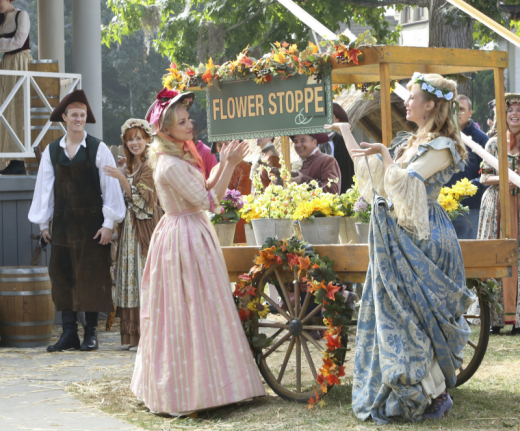 In my interview with Hart of Dixie creator and executive producer Leila Gerstein, I asked her if they sat around in their writers room and tried to use as much innuendo as possible' she laughed and said yes. (Check out the interview with Leila). This episode showed just how much the writers do "beat around the bush," so to speak, when it comes to the sexual humor in this show. 

The dialogue in this episode was some of the funniest it has ever been. I was laughing so loud that my roommate asked me to quiet down! How could I? Brick was talking like we'd never heard Brick speak before and Zoe was channeling her inner Lemon!

Every storyline tonight had some sort of comedy that went along with it. My favorite being Brick trying to break up with Shelby yet getting quickly distracted when she mentioned lingerie. Excuse me while I put this bluntly, Brick: you were thinking with the wrong head. Too much? Well, he basically said it himself. When Brick asked George to break up with her, he used the compliment sandwich, causing Shelby to quickly discover that George was behind it. Cue the slap across the face... Again!

Elsewhere, we saw Zoe Hart becoming Lemon Breeland, turning every single negative in her life, specifically those negatives from Wade Kinsella, into positives. How did she deal with the stress? As southern women call it, she had "projects." We've never seen Zoe in such a caring and southern role that it was very comedic. It felt out of place and for once that was a good thing. 

The worst part of tonight was when I had to watch the raccoon tear apart Zoe's Christian Louboutins. As a woman who loves fashion and Christian Louboutin's designer heels, that almost brought me to tears. You just don't ruin those heels. It's like a slap in the face to women. RIP Zoe's Louboutin's, I'll remember their beauty forever. I hope that raccoon paid for it's sin against fashion. 

Moving on...

The tables turned to the dramatic when we had Lemon trying to convince Lavon to let her help him but he wanted nothing to do with it. Gerstein said it best when she said that Lavon and Lemon are the "epic" couple of Hart of Dixie. I couldn't agree more. There is so much push and pull between these two characters that you pine for them to be together, you root for them even when they're happy with other people. This is what shippers a "one true pairing" or "OTP," meaning that they are meant to be together in the end. 

I will go down with the Lemon/Lavon ship! 

This episode had me laughing hysterically, enjoying every storyline that was given to me, and had me rooting for Brick to stay with crazy Shelby. 

Be sure to stop by the Hart of Dixie quotes page to see my picks for the nights best innuendo, comedic-filled lines!

Tags: Hart of Dixie, Reviews
Want more Hart of Dixie?
Sign up for our daily newsletter and receive the latest tv news delivered to your inbox for free!
More From TV Fanatic
On tonight's The Bridge, the search for Eleanor continues. Will she kill again before she's found?
On Extant, Molly reveals her pregnancy to John. However, Sparks' story isn't exactly a plausible explanation.
On Graceland, Mike, Briggs and the team pull out all the stops to get Paige back. Read our review of "The Unlucky One" to find out if they were successful.
On Suits, Rachel and Jessica's life choices seep their way into the business of the men in their lives, some of which only cause more problems. Read out review of "Litt the Hell Up."
---