"Kapu (Forbidden)" featured the first-ever usage of technology that let viewers vote on the ending of a TV show as it aired - and that alone would have been enough to get excited about, my friends.
But tonight's Hawaii Five-0 also featured an exciting, absorbing mystery at its center, the debut of Danny's sass-mouthed nephew, a look at the softer side of Sang Min, and not one, but two off-key renditions of songs from my misspent youth, performed within the first fifteen minutes of the show.
Backstreet Boys AND Poison?! Gods of Television, what have I done to please you so?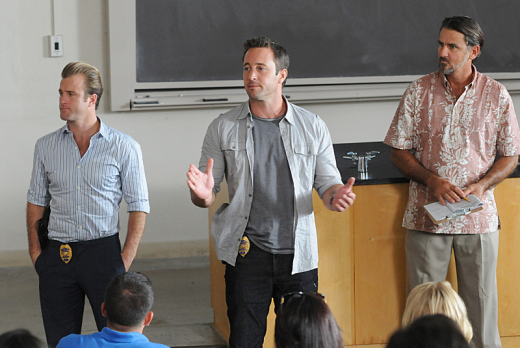 Though it would have been very easy to dismiss viewer voting on the identity of tonight's killer as a pointless gimmick (and trust me, I was ready to dismiss it! I had my dismissing hat on and everything!), the episode (and the gimmick) were actually tons of fun.

I had initially been concerned about voting on the villain; after all, isn't half the fun in a crime procedural having your preconceptions confounded when the killer is finally revealed? But I shouldn't have worried because so little information about each suspect was introduced, and the actual plot of the episode was so consistent in each variation (as well as lively and quick overall!), that it was more like playing a rollicking game of Clue than it was playing master detective.

(FYI, I voted for the Professor, who did end up being the killer on the east coast airing. But I voted for him because I didn't like his hair, so it's no feather in my cap that I was right.)

Danny's good-for-nuthin' nephew Eric (played by Andrew Lawrence - yes, of "younger brother of Joey Lawrence" fame) was excellent comic relief. He and Danny sparred so perfectly and spun out so many delightful Hawaii Five-0 quotes, I hope we see him again soon. Likewise, Bullwinkle (Matt L. Jones, better known as Breaking Bad's Badger; can this man ever play a character not named after a hilarious animal? No? Okay!) stole every second of his scene as a pineapple-bong-smoking computer whiz with a fridge full of ranch dressing.

Between the genuinely gripping college professor plot and the sheer thrill of seeing your vote play out on-screen, it was almost impossible to pay attention to Kono's subplot with Sang Min. But when she found him standing outside his ex-wife's house decked out in a suit and cradling a bouquet, looking like a kid who just got stood up on prom night, it added an intriguing layer of depth to a man who has not always been the most sympathetic of characters.

Hawaii Five-0 isn't the first show to use an Internet viewer poll to decide a plot point - that honor would belong to the esteemed Ryan-Reynolds-career-footnote Two Guys and a Girl, which used this technique for their series finale in 2001. But Hawaii Five-0 is the first show to do it in over a decade, and the first to make use of technologies like Twitter to do it in real time. Will it be the last? Judging by how much fun it was to play along this week, I doubt it.

Did you vote on this episode? How did you decide who the killer was? Do you think we'll be seeing more TV shows in the future that let viewers take control of the plot?

Tags: Hawaii Five-0, Reviews