With Robin having agreed to marry Barney, it was time to start planning the wedding this week on How I Met Your Mother.
Lily - already on edge thanks to Marvin's stubborn bowels - did not respond well to having her thunder stolen by Ted and so the battle to book a "Band or DJ" began. 
While the momentum of the episode was a slow build, culminating with a great Mother teaser at the end, the main cast took awhile to hit its stride. Lucky for us, Robin's father is now fun! Ray Wise had some of my favorite How I Met Your Mother quotes of the episode, displaying a surprising new side to Robin's usually hard-nosed father.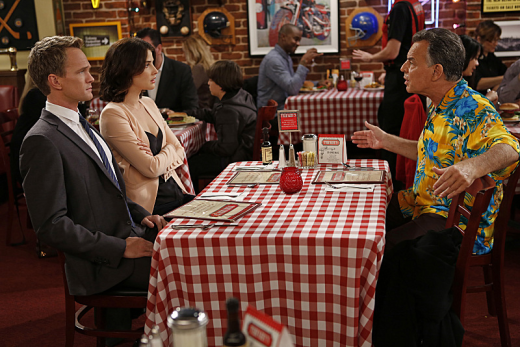 Barney did his best to keep things light by dying his hair and saving Fluffernutter's life, but tonight's episode blindsided us with some somber subject matter. 

As Lily got Ted to admit that he still was not okay with Robin marrying Barney, I think I could hear a collective sigh ring out from Mother fans everywhere. While Ted's inability to move on was tiresome and nothing we haven't seen before, Lily's admission about sometimes not wanting to be a mother blindsided me. Fans may be critical of this left field statement, but it did give Alyson Hannigan the opportunity to show off just how good an actress she can be. 

Thankfully, in the end Ted, seemed to come to his senses and was able to just be happy for his two friends - but not before we were treated to a great montage of the times he was most hurt in his life. My favorite of which was the spilled matzos ball soup incident. 

Robin got to show off her serious side, too, as she reprimanded her father and pleaded with him for some sort of normalcy. I also liked how she was so moved by Barney's ability to get her father to apologize to her for the first time. 

Marvin finally got some relief at Marshall's expense. I'm sure the smile of satisfaction on his little face mirrored that of fans as we were treated to another glimpse at Ted's future wife when he watched her play bass at Robin and Barney's future wedding. 

Initially suspect, after looking at the episode as a whole, I was rather pleased with the show's first night back in the new year. What did you think? 

Tags: How I Met Your Mother, Reviews