Justified Season 4 Premiere Review: Humor Me
by Dan Forcella at .
Over the past couple years Justified has been my favorite drama on television. With its riveting performances, exciting story lines and endless charm, the series has received equally high praise from critics across the country.
But if the Justified Season 4 premiere - "Hole in the Wall" - is any indication, this intense drama is likely to have a bit of a lighter feeling to it. There have always been comedic moments spread sporadically through Justified - usually from Raylan or Art - but with Patton Oswalt joining the fold, loads of comedy is likely to ensue.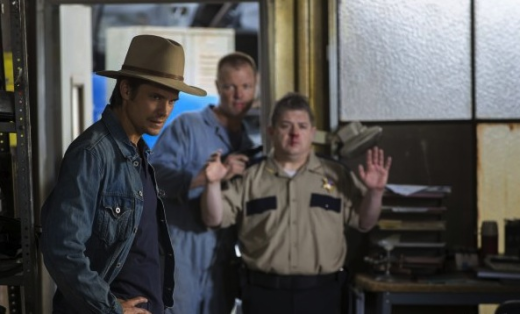 As Constable Bob Sweeney, Oswalt perfectly portrays the wannabe tough guy with a level of comedic timing only attained by the heavily-seasoned actor. Even better, at least after just one hour, the introduction of his character is so seamless that the world that Justified has created over the last three seasons doesn't seem to skip a beat.

Whether it be wanting to put up a sign that asks criminals to break the window if they're going to break in, opening up Costco-sized cans of whoop ass, or pretending to turn Raylan into "beef stew" with his handy knife, Oswalt brought more comedy to my favorite drama than I ever expected. That is not a bad thing.

As has been the case in every season of Justified, the season four opener did a fantastic job of setting the scene for what fans are likely to enjoy over the course of the next 13 weeks.

No, there was no Bennett clan making their presence felt early on. And no, Robert Quarles didn't scare us all with his psychosis. Instead, we met the aforementioned Constable Bob, passionate Preacher Billy and crazy Colton Rhodes. All three have captivated my interest early.

I have no idea how earnest Preacher Billy is in his pursuit to save all of his followers, but it really doesn't matter. As long as they continue to believe, it will likely make for good television. Justified has a good history of finding interesting things to do with religion.

Hey, any preacher who stands up there willing to get bitten twice by the same snake and continue to hold it is alright in my book. The character, and his ability to stop the people of Harlan County from doing drugs, will likely be a major hindrance on our man Boyd Crowder... at least for a while.

That brings us to Mr. Rhodes, who made one heck of an entrance. Watching him so casually disable the handicapped Johnny and then swing Ava around before meeting Boyd with a huge bear hug was so incredibly enjoyable.

Like most characters on this show, Colton brings a shady past with him, as the explanations of his loss of rank and eventual discharge expressed. Still, even after learning that, I was definitely not expecting him to go ahead and shoot Hiram to death without flinching when Boyd told him to "take care of him." Apparently murder isn't a big deal to this veteran, which will likely make him a worthy partner for Boyd.

While Boyd's arc for the season was being set up, the main story of the episode was as entertaining as ever. And that's exactly what Justified has done better than any other show on television over the past two years: merge the long running stories with the episodic tales perfectly.

Raylan's adventure to take care of Jody in order to make some extra cash (he does have a baby on the way, mind you) was as nice of a self-contained hour as I've seen this year. Highlighted by the cowboy throwing a bag of burgers in Jody's face, and eventually throwing him in the trunk, "Hole in the Wall" was yet another in Justified's long run of excellence.

Also, planting the seeds of Arlo's mystery bag and ID, as well as the dead skydiver from 1983, the premiere did almost everything you could ask for at the start of a brand new season.

I'm absolutely looking forward to the rest of episodes, but what did you all think of this one? Do you think this season has the potential to live up to past performances? And how did Oswalt do fitting into this world?

Dan Forcella is a TV Fanatic Staff Writer. Follow him on Twitter.

Tags: Justified, Reviews
From Around the Web