Nikita Review: Make Like a Good Spy and Kiss Her
by Carla Day at .
After what seemed like a never-ending hiatus, Nikita season 3 returned with "Intersection," an episode devoted to the team's quest to bring down Amanda.
The former head of Division is obsessed with Nikita, but even the best chameleon spy wasn't enough to keep the new Division team from hunting and finding her.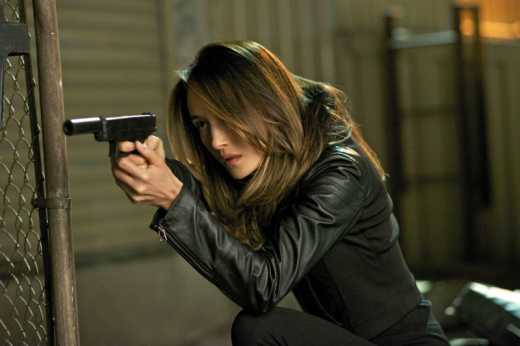 In "Sideswipe," we found out that Sonya was the mole and that Alex definitely had a drug problem. Both were secrets that could have remained hidden and dragged down the show, but instead they were addressed in the first episode back. Birkhoff made the right decision to bring Nikita and then the rest of the team in on the secret. It allowed them to come up with a plan to save Sonya and try to bring Amanda down at the same time.

I was a bit surprised that no one really doubted Sonya's account of what happened or that there was a second mole. It ended up being true, which was a relief. They decided the best way to get to Amanda was to use her obsession against her. A fake Nikita-Michael fight was all that was needed to set the plan into motion. Amanda fell for it, though they had a little help that they weren't expecting. She had pictures of Michael and Alex together.

Alex's drug addiction could easily have become a secret liability for the team, but I'm glad the show didn't go down that path. The last thing Nikita needed was to throw in a cliche drug addiction storyline. Instead, Michael confronted Alex. The twist that Amanda had the pictures played well into their plan. Nikita had every right to be upset at Michael for hiding it, but she had enough confidence in their relationship to not fall into Amanda's trap.

The funniest moment came when Nikita watched as Michael and Alex went on a fake date to trap "The Watchman." Awkward! Though, they really went for it with their kiss. Their fake date worked and they brought in a rogue former Division agent and tracked Amanda's location in Quebec City. Nikita and Michael left to take her out.

Birkhoff was determined to save Sonya. He worked with Ryan to narrow down the second mole to four people and put them on a restricted project. Since none of them could see Sonya or contact Amanda, it provided the time necessary to deactivate Sonya's kill chip. It wasn't without risk, but it was their best opportunity. The second mole, Barker, revealed himself when he went after Sonya, but he was stopped by Alex.

Nikita and Michael had to act on the spot when Amanda left her home. They followed her and once Sonya's kill chip was deactivated they made their move. Unfortunately, it was not without loss. Amanda's henchwoman, Anne, threw a grenade at Nikita and Michael's car causing them to crash. Amanda's feelings for Nikita are conflicted. She wants to make her protege feel pain, yet doesn't want Nikita physically hurt or killed.

Just as Nikita called Amanda's bluff when Cyrus was hooked to a bomb, Amanda didn't want Anne to kill Nikita. Despite that order, Anne went after Nikita and was killed with her own knife. The crash left Michael trapped under the flipped car and when Nikita got back to him, he hadn't gotten free. Their love for each other is so strong. Even though Michael wanted her to leave him and save herself, she refused. Instead, she picked up the knife and cut off Michael's hand. Or at least that's what it looked like, especially given all the blood.

While the team was successful in freeing Sonya and revealing the second mole, Amanda also won in a way. She caused Nikita pain through her loved ones. Michael will never be the same due to the grenade causing the car crash. If Nikita and Michael weren't already set on taking her down, their quest will be heightened now. I hope Michael reacts with anger and a desire for revenge over feeling any sort of pity about it. 

Were you happy with Nikita's return? Will Alex be able to kick her pill habit? Or will it be difficult? What will Michael's reaction be to losing his hand?

Carla Day is a staff writer for TV Fanatic. Follow her on Twitter and on Google+.

Tags: Nikita, Reviews
From Around the Web