The Following is a series that is not for the faint at heart. That much will be obvious after mere minutes of tonight's series premiere.
However, cast members, creator Kevin Williamson and even Fox's Chairman of Entertainment, Kevin Reilly, stressed at the recent TCA Winter Press Tour that there's much more to the psychological drama than mere gratuitous acts meant to shock people.
The series centers on a cat-and-mouse game between tortured former FBI agent Ryan Hardy (Kevin Bacon) and the man that draws him out of retirement, serial killer Joe Carroll (James Purefoy). Carroll is so renowned for his crimes that he's developed admirers who are devoted to him and willing to do to anything he asks, no matter how sick or perverse.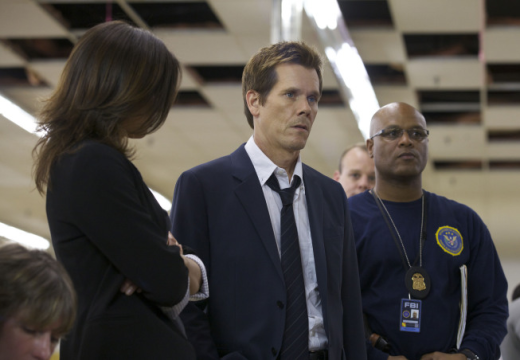 For Bacon, The Following marks first leading television series role. What made him sign as Hardy?
"I wanted to play the hero," he explained to TV Fanatic, adding that he's been looking for a small screen project for years.
However, Bacon had no interest in being a hero who lacked flaws. Hardy possesses a tortured past, including a penchant for adding booze to his water bottles.
"I tend to be drawn to those things that are regular guys. So, I said 'Yeah, you know, if [Hardy's] gonna be a hero, I want to find out what's going to be flawed about him…I'm going to try to find the darker side, some kind of vulnerability, some kind of struggle. That's what this part has."
On the flip side of Bacon's character is the charming and seductive serial killer played by Purefoy. The actor wanted to make it clear that Carroll's followers are doing so by choice, not by order.
"These are people who don't need the slightest bit of convincing to do the things that they do," he said during the show's TCA panel. "These are people who have joined up with him because he offers them a nonjudgmental and a safe place to enact the things that they want to do. So these aren't people who were forced to join a cult. These are absolutely willing accomplices."
At the heart of the show, however, is something Williamson knows how to do very well: a love triangle. The Following's more twisted type of this scenario involves Hardy, Carroll and the woman they both love, Claire Matthews, played by Natalie Zea (Justified).
"Kevin Williamson created Dawson's Creek!" she told us at the Fox party. "That fact doesn't get buried in the gore. It's there so expect relationship drama, expect a love story, expect to be scared, obviously, but don't expect one thing going into it because you're not going to get that one thing you expect. It's always going to be a surprise around the corner."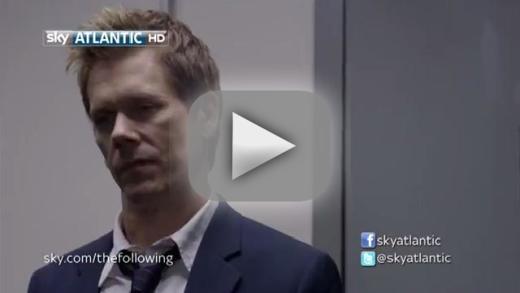 Zea also stressed that this also isn't a show where the women are weak: "A lot of what makes up her character is her reacting to things that happen to her. I think what Kevin has done is he's pushed that just far enough so the character and the viewers are all 'Okay. Enough!' and then she takes action."

While there may be some elements that resemble those in his earlier work, Williamson is well aware that The Following is a departure for him. But when asked about the differences, he explained that he's not the same writer he was when he created Dawson's. He then compared his new program to The Vampire Diaries.

"It's gothic romanticism hinged in sort of a vampire/werewolf landscape, with witches and stuff. And it was more of a Dark Shadows. And [The Following] takes place in today, in the eastern seaboard and, also, the characters are older and I've got several generations of characters that I get to play with. I get my young characters but I also get to write adults. I'm not a child anymore."

Despite the strong sense of character and the aforementioned love triangle, you can't escape the issue of show's violence, which Reilly addressed at the TCA Executive Session by saying the show does not exist outside the network's broadcast standards.

"I think that the show is intense because of the psychological nature of it," Reilly said, "and the characters in whom we invest. The truth is, I think there have been more violent shows on television. I think some of them have come and gone and nobody noticed or cared because they were insignificant, bad shows. This is a significant show and a good show and I think, as such, you're invested in it and it feels even more intense than it is."

He added:

"Our standards on this are much more conservative than on The Walking Dead or any of our basic cable comparisons... we must match the intensity, otherwise we're going to be a pale comparison and we're not going to entertain the audience. And I think this show goes toe-to-toe with them on the level of intensity and ability to surprise and hold your interest."

The Following premieres TONIGHT at 9/8c on Fox. Visit TV Fanatic immediately afterward for a detailed review.

Jim Halterman is the West Coast Editor of TV Fanatic and the owner of JimHalterman.com. Follow him on Twitter.

Tags: Interviews, The Following