You know an episode of 90210 is just not getting it right when Navid is the only one I don't feel like slapping by the end. Okay, I'm exaggerating. But "Strange Brew" was a real Tease with a capital T.
All that Lannie Lovefest in the promos? Just for a steamy dream?!? BOO.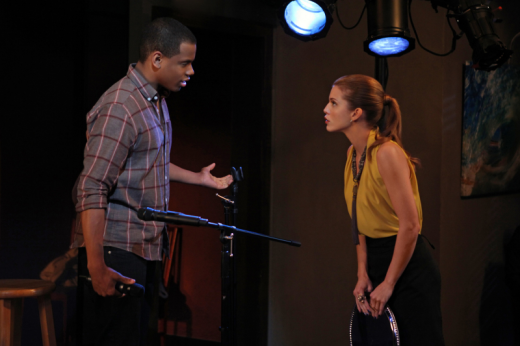 I suppose I really should've known better and I'm sure a lot of you commenters will feel the same way. My mother, who has never watched this show before, caught the beginning and asked me on the phone "that was a sexy scene, was that a dream?" Sure was mom, it sure was. With dialogue like this, what did we expect?
Annie: Oops this one's still a little dirty hunnie.
Liam: Maybe I like it dirty. | permalink
However, you know this isn't the end of that Lannie fantasy. 

First, Let's not forget that Silver's camera recorded Annie discussing her feelings. Even if Annie closed the sidescreen, it doesn't mean it stopped recording. Second, there's the fact that Annie named the characters in her anonymous book "Annabelle and Leo." She also wrote a book where Annabelle and Leo are back and forth, he rides a motorcycle, and she takes a bullet for him. I mean...c'mon.

Third, one of their friends could also likely spill the beans. I'm guessing Naomi.

Elsewhere, everyone was trying to figure out what their dreams were. The characters are supposed to be 21, so this is the proper time for that first existential crisis to hit. They'll learn in another year or two that being in your 20s means you have no idea what you're supposed to be doing for the rest of your life and you should just be experimenting. Liam actually has it right. He's trying all of his options. Whether it's making crappy beer or being a movie star, he's out there doing stuff. 

A lot of these characters are go-getters. I'm starting to get pissed off at Silver because she thinks that her dream is more important than everyone else's. Dixon is busting his ass for his record label, yet he's still paranoid about making sure he gets Silver's approval before Michaela sings at the opening. Of course Silver threw a fit and ran off before hearing what he has to say. That isn't exactly adult behavior coming from someone who is desperate to have a baby.

Don't get me wrong: I respect Silver wanting to have a child, but if she didn't want to worry about these road bumps she should have insisted that she and Teddy go with a completely impartial third party as a surrogate. That said, Michaela did agree to be the surrogate and should've spoken to Silver first and not just assumed Dixon would take care of it.

Naomi and her brother were cute once she stopped trying so hard to bond with him. Turns out something as small as argan oil did the trick! Thank goodness for that epi-pen!

In the end, I guess I jumped the gun saying Navid was the only one not annoying me. I just felt led on by the epic Liam and Annie tease and subsequently letdown. I also need for Silver to just chill the Hell out for an episode. Just look at Naomi, things go better when you aren't trying so hard! 

What did you all think of this week's episode of 90210? Were you let down or relieved by the Lannie letdown? Is Silver getting on your nerves? Do you think Dixon and Michaela's music video will workout?

Leigh Raines is a TV Fanatic Staff Writer. Follow her on Twitter.

Tags: 90210, Reviews