"Men In Black" were everywhere in this episode of Blue Bloods and I never wanted them to put those long wool suits back on as much as I did during the steam room scene. There's something about hairy and sweaty that just doesn't go together.
Other than that one pet peeve I really enjoyed this hour's peak into the Hasidic community.  New York City is such a melting pot of cultures, races, and religions that I appreciate it when the show reminds us of that.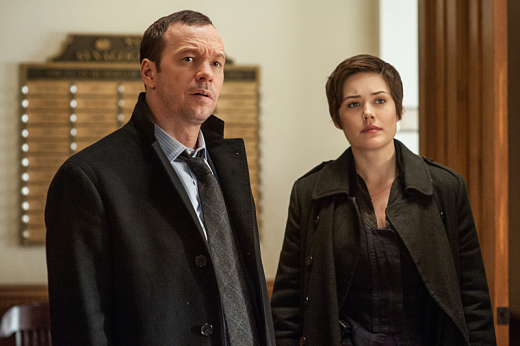 When the Grande Rebbe told Henry that he was breaking with tradition and asking his younger son to take his place, it was easy to guess that Levi would soon end up dead.
I was left to wonder if Levi's father had any idea about his extra-curricular activities.  I felt bad for Karen Waters, his shiksa goddess but that's always the risk of being the other woman. Given his strict religious beliefs it wasn't hard to guess that Levi would never divorce his wife. Of course given those same beliefs he shouldn't have been having the affair in the first place.
Jamie had a fun case this week. Hopefully Rebecca's friend finds, well, better friends. Calling the police clowns to their faces is generally a quick way to get them to slap the cuffs on you.  Not that Rebecca cared. Her daddy was once the mayor.
As Erin told Levins in this Blue Bloods quote as he tried to get the charges dropped…
Erin: As parents our first instinct is to fix everything and sometimes that just makes things worse. | permalink
For a girl that's probably never so much as cleaned up her own room, doing 1000 hours of clean up from Hurricane Sandy should make quite an impression.

The storyline that shocked me the most was that of Peter Christopher Reagan.  

Certainly times were different and I would never judge anyone who has lost a child but I was surprised that Henry and his wife chose to never speak of their little boy who died of leukemia the year before Frank was born.

Not talking about him, not sharing his memory all of these years meant that to Frank and his family that child never existed. I found that horribly sad.

On an up note,  I couldn't believe it when Danny blurted out that a girl could never be commissioner. Erin would make a better commissioner than either of her brothers.  It made me want to invite myself over for their family dinner just to smack him…and have a knish.

C. Orlando is a TV Fanatic Staff Writer. Follow her on Twitter.

Tags: Blue Bloods, Reviews