Constance Zimmer Teases Grey's Anatomy Emergency, Asks: Who is the Face of Seattle Grace?
by Matt Richenthal at . Comments
Constance Zimmer is aware of the similarities between her beloved role on Entourage, as studio executive Dana Gordon, and her latest role on Grey's Anatomy, as Dr. Alana Cahill, the woman tasked with saving Seattle Grace from bankruptcy.
Both are strong, tough, business-oriented woman - but Zimmer told me this week that she doesn't seek out such characters.
"They seek me out," she said, adding that she was hesitant to sign on for such a like-minded individual, but "Grey's Anatomy gave me a good arc. There's a specific beginning, middle and end and everyone will see a softer side [to Alana] once I leave the hospital."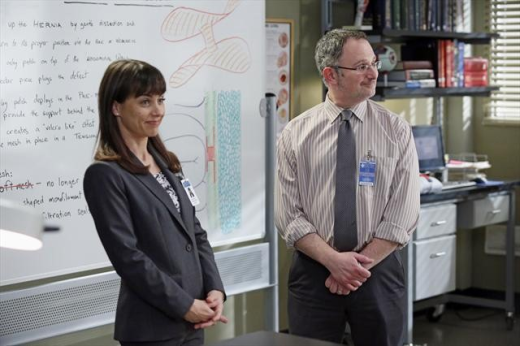 So far, of course, the side most viewers have witnessed is hard and calculating. We ended "Bad Blood" with the surprise that Dr. Cahill has been priming to sell Seattle Grace.

And we kick off tonight with a host of potential buyers walking the walls.

"It's about me trying to show everything I've been doing to make the place more efficient," Zimmer said of this evening's "The Face of Change," detailing how Alana must commercialize the institution: "There will be a competition among the handsome doctors to see who becomes the face of Seattle Grace. It's mostly between Jackson and Alex."

But an "emergency comes in," the actress teased, forcing the doctors to "work together as a team" again, considering how "scattered" many have been over the past few weeks.

Zimmer (also starring in Netflix's House of Cards) did say we'll discover why her character left surgery, and added that she can understand the frustration for someone in Alana's job.

"She never gets thanked," the actress said. "Even though she keeps the doors open and she keeps people in their jobs… it's not done in the most pleasant way. We all want to believe we're efficient enough and her job is to come in and tell people they can be more efficient."

As we look forward to tonight's new episode of Grey's Anatomy Season 9, it's time to vote, TV Fanatics: Who do YOU think should be the face of Seattle Grace?

Matt Richenthal is the Editor in Chief of TV Fanatic. Follow him on Twitter and on Google+.

Tags: Grey's Anatomy, Exclusives, Interviews