In Downton Abbey episode 305, everyone is still reeling from the death of Sybil -while trying to figure out what the future holds - as the lifestyle Downton has held so dear is slowly deteriorating as time goes by.
It's been an amazing turn of events to see Mary and Matthew become a happily married couple. They've earned each other's trust and are deeply in love. Matthew has stepped up to the plate with regard to his investment in Downton, and his support has given Mary even more confidence to stand tall against her father when she believes in something.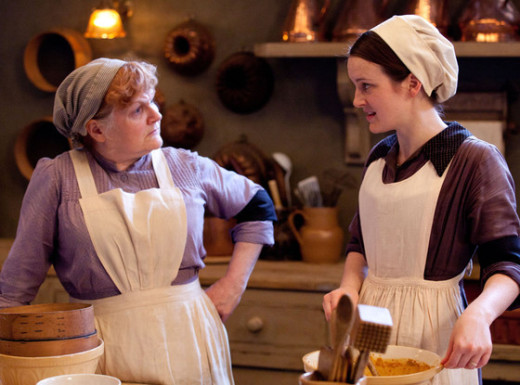 Even the relationship between Isobel and the Granthams has come a long way, considering Mary insisted Isobel stay for dinner because they can all use a little cheering up. Very slowly, the dynamics of the running of Downton are changing and it's interesting (and frustrating) to see it all play out.
I adored the conversation Matthew had with Mary when he asked if she thought Sybil knew she was going to die when she told Mary about Christening her baby as a Catholic. That launched them off into a conversation about not taking anything for granted, including each other, loving each other until their dying breath and how they should be used to young death after the war.
That conversation would lead me to believe the harbinger of death isn't finished with Downton, not at all.
Meanwhile, Robert Grantham and his high horse made quite the appearance during the episode, didn't he? The only agreeable thing he has done lately is admit he might have had a wee bit of culpability in Sybil's death. Other than that? Let's tick off the offenses this week:
Tom's decision to name his baby Sybil is "ghoulish."
Mary and the family standing beside her sister's decision to Christen baby Sybil as Catholic sent him into a rage.
He wouldn't even listen to Matthew's observations about the mismanagement of Downton.
His offensive remarks when speaking to Matthew in front of Tom and comparing it to speaking in front of the household staff.
Barging into Isobel's house to remove his ladies from the presence of Ethel the former prostitute.
Carson's taking a page out of the Earl's book and I can't even find his prudishness amusing any longer. I cannot help but wonder what Downton Abbey Season 4 will bring, as the times continue to change and the need for household help dwindles. Between him and Robert, they are stomping their feet and trying to stick with the old ways of life, but times are changing whether they like it or not.

Daisy had a fantastic offer from Mr. Mason - to be handed her future through his tenancy. She would no longer be in service and could write her own destiny. With the many setbacks she's receiving at the hands of the men of the kitchen, Alfred and Jimmy, might she just take him up on it and leave Downton? I wish that she would. Daisy deserves a life, even if it means viewers lose the spunky Daisy in the Downton kitchen.

It would seem the older men are the ones finding the societal changes the most disagreeable. Robert, Carson and Mr. Molesley were all out of sorts about Ethel working for Isobel. Even Violet didn't want to pass up a good pudding even if it was prepared by a former prostitute, deciding that good servants are hard to come by. Those two lines didn't make it all the way to the big time, but you'll find some other great ones on the Downton Abbey quotes page.

Violet was showing her softer side this week as she ached for both Cora and Robert in their grief over the loss of Sybil. Knowing that losing their marriage wouldn't help either of them, she asked Dr. Clarkson to tell a bit of a lie about Sybil's chances of survival if she had had the surgery so Cora and Robert could reconcile. Her heart was in the right place, but it was difficult for him to do. Cora and Robert sobbing together showed it was the right call. Maybe, just maybe, it will knock Robert off that damned horse he's on.

Oh, who am I kidding? Matthew is going to have to challenge him to a jousting match or something to get him off that horse. Wouldn't that be a sight to see?

I'm  hoping Tom decides to stick around and help with the management of Downton, that Edith takes the writing job and I'm interested to see what happens when Bates gets home. Did I forget to mention? He'll finally be set free. Thank God that dud of a plot line is finally over!

Take to the comments with your thoughts and wishes. Until next week!

Carissa Pavlica is the managing editor and staff writer for TV Fanatic. Follow her on Twitter and on Google+.

Tags: Reviews, Downton Abbey