I'll admit it: as someone who has attended Super Bowl parties only because they are a place where it is socially acceptable to eat your weight in guacamole, I'm sure a lot of "Pa'ani (The Game)" was wasted on me.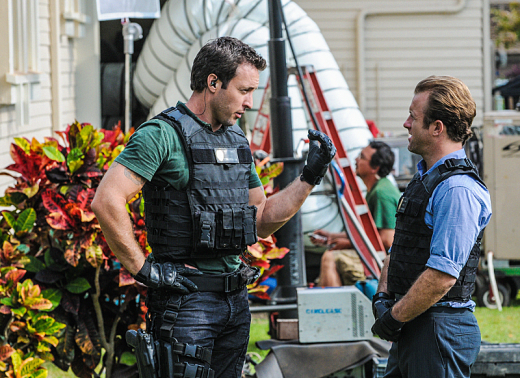 A few of the football-related Hawaii Five-0 quotes managed to penetrate even my thick skull, so I imagine that there was a lot for the devoted football fan to enjoy, and I apologize to you all for the important stuff that I am sure that I missed. Next round of guac is on me, guys.

But there are two things I do know a lot about: bromance and lite rock. And, luckily for me, they were both in plentiful supply in this episode (the latter in the form of Train's Pat Monahan as villain-of-the-week Neil Redding).

"Pa'ani (The Game)" took on bromance vs. romance, reaching a definitive verdict: bromance is king! Call it from the mountaintops!

From Steve blowing off Catherine to go to the Pro Bowl with Danny... to Danny blowing off the Pro Bowl to stay with Steve in the hospital... to the adorable McDanno bickering, this episode was a valentine to bromance, man dates and the fact that Danny is basically a way better life partner to Steve than Catherine.

I'm not saying Catherine was a jerk to go to the Pro Bowl and have an great time on TV while Steve was getting his shoulder jammed back into its socket at the hospital, except... oh wait, I totally am. Thank God Steve has someone to prioritize his well-being/ happiness/shoulder health, you know?

The episode's guest star MVP award had to go to throw-back lounge singer Nicky "The Kid" Demarco, who managed to be both hilariously over-the-top and true-to-life at the same time - there are still tough guy crooners like this, who claim that they used to roll with Sinatra, in almost every resort town in America (though most of them are nowhere near as entertaining).

With all the football and bromance-ular excitement in the air this week, the actual crime just couldn't compete. Monahan's evil and nattily dressed computer executive was fun to watch whenever he was on screen, and the murder was enjoyably complex - I certainly didn't guess the killer until he revealed himself.

But this week was truly about bromance and comedy, and the crime was just a vehicle to get it to us; much like how the corn chip is simply the vehicle to get guac into our mouths.

And that was more than alright. This episode was classic light fare (well, as light as anything involving a violent murder can be), and from the deep, frozen depths of a northeast winter, I certainly welcomed the sight of two guys who really care about and support each other, joking around in paradise.

What did you think of this week's crime? What great football jokes did I miss? Do you think Catherine made the right call with those Pro Bowl tickets?

Tags: Hawaii Five-0, Reviews
Want more Hawaii Five-0?
Sign up for our daily newsletter and receive the latest tv news delivered to your inbox for free!
From Around the Web
More From TV Fanatic
It's getting crazy on Gang Related! Lines are being crossed by gangsters and officers, is anyone in the right?
On Rookie Blue, Andy assists Sam in a missing persons case. Elsewhere, an undercover operation to track down illegal handguns sends Chris scrambling to maintain control.
Join us for the rewatch of Gossip Girl Season 2 Episode 9 "There Might Be Blood." What did you think of this episode?
Duck Dynasty Season 6 Episode 5 was all about re-branding. Read on for our latest rundown.
---