Jim's Notebook: Open to The Walking Dead, Suburgatory and More!
by Jim Halterman at .
From scoop on cable's biggest-ever show to USA Network going where few other shows dare to traverse, it's time to open up my Notebook once again and let the scoop and spoilers spill out. Let's do that!
THE WALKING DEAD As you saw in last weekend's mid-season premiere, David Morrissey's Governor may be minus an eyeball, but he's still as much of a threat as ever to Rick and the gang. Where is that anger going to take him (and us)?
Morrissey told me at the recent Academy of Television Arts & Sciences that his character is "a grieving man, he's full of anger, he wants revenge and he hates the world and that's quite a nihilistic place he's in... who knows what his plans are? Who knows who the real man is? I think that is what will be played out in the season to come and it's about who he really is."
And while we've seen Andrea's disgust at some of the Governor's recent actions, she has yet to run in the other direction either. Can the budding twosome survive? "Like all relationships, it will go into a different stage and the love he had for her and the affection is totally real, really," Morrissey explained, "but he's a duplicitous man and it's about how he can square that with this woman and whether he needs to work hard to keep her on board or whether how genuine is he. You never really know."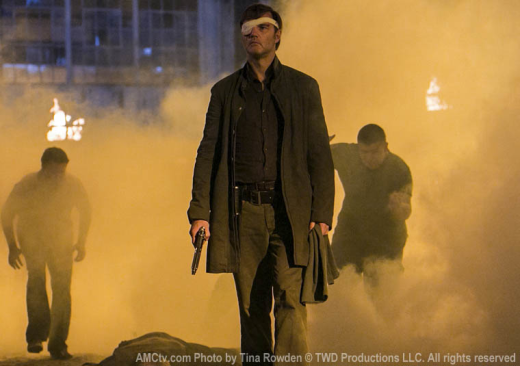 SUBURGATORY Romantic complications are heading to the 'burbs on the ABC sitcom. One of more surprising couplings this season has been between brainy Tessa (Jane Levy) and not-so-brainy jock Ryan (Parker Young) - and creator Emily Kapnek told me at a luncheon earlier this week why she thinks it works…for now.

"You know they're not really suited for each other necessarily long term but at the same time it's exactly what relationships are like when you're a teenager. But we do have some bumps in the road for them coming up. Ryan is courted by a bunch of schools for football scholarships and Tessa tries to help him navigate that the best she can."

Of course, Tessa's father George (Jeremy Sisto) is in a similar place with his relationship with Dallas (Cheryl Hines). "George and Tessa are in relationships both with people who they aren't necessarily suited for," Kapnek explained. "They have a lot in common, a great parallel happening there, but it's very difficult for Dallas to trust in George and believe in George and feel that it's real and he's really working hard to convince her and as things around them start to get hairier and hairier, a lot of stuff comes to a head."

NECESSARY ROUGHNESS A big part of next week's season finale will focus on gay QB Rex Evans (Travis Smith) coming out of the closet. But when I recently talked to series creators Liz Kruger and Craig Shapiro, I wanted to know if we can expect a happy ending (for now, at least) for Dr. Dani (Callie Thorne) and Matt (Marc Blucas).

"Let me just say, what is happiness?" she teased. "What is a happy ending? That is the question!"

Could that, perhaps, less-than-happy ending have to do with the simmering tension between Dani and Nico (Scott Cohen) finally exploding? Kruger chose her words carefully: "They're going to spend a lot of time together, and their relationship will be explored in an entirely new way, and I can leave it vague like that."

While the creators did call the happenings in the finale a 'metaphorical bomb,' the good news is we'll have a third season for more Hawk drama on USA.

Tell Me Yours, I'll Tell You Mine In my line of work, I watch a lot of television. But I'm only human and cannot possibly keep up with everything. So, I want to hear how you're watching the bulk of your TV these days? Do you watch via DVR, Hulu/Netflix, marathon the DVDs or do you go the old-fashioned route and actually watch shows when they air? Also, what are your favorites shows that you MUST watch live? What's the show that sits on your DVR collecting dust because you just don't care enough to watch yet don't want to delete? Tell me yours and I'll tell you mine next week!

Leave a comment here, tweet me @JimHalterman or you can email me directly at jim@jimhalterman.com. 

That's a wrap for this week! Anything else you're dying to know about your favorite show? Leave a comment here or you email me directly at jim@jimhalterman.com. And remember: follow @TVFanatic for all your TV scoop!

Jim Halterman is the West Coast Editor of TV Fanatic and the owner of JimHalterman.com. Follow him on Twitter.

Tags: The Walking Dead, Necessary Roughness, Spoilers, Jim's Notebook
From Around the Web