"The Fall Guy" proved that Necessary Roughness has more than one fixer... and The Hawks certainly needed all the fixing they coulc get.
Was it really such a huge surprise when Juliette wanted to fire Coach? He accused his boss of "swigging booze and swinging from chandeliers." Those type of comments generally put you on the fast track out the door.
Still, I was surprised to find out that he was involved in The Hawks bounty system. I suppose anyone is capable of anything when pushed hard enough - and Juliette must have pushed hard. Despite her innocent act, I'm sure she knew exactly what she was doing and just how wrong it was. 
With their backs against the wall, Matt and Nico worked together and went to Dani for help.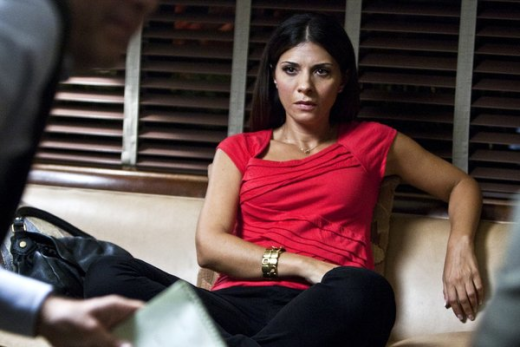 The scene with Nico and Matt in Dani's car was my favorite of the hour. When Matt asked if this happened often, all I could think was that there's so much about Dani and Nico that he doesn't know.
On a side note, doesn't Dani ever look in her car before getting in? You'd think she'd learn, or perhaps she enjoys Nico's little surprise visits.
Dani's family visit highlighted some of her issues. Her mother's a gambler, her sister's a kleptomaniac and her father was a habitual cheater. That left Dani as the family fixer.  
Unfortunately, she was rather quick to judge her own mother. Despite asking her mother to tell the truth, once Angela did, Dani didn't want to hear it. It's always hardest to remain objective when it's your own family.
Once again, I felt for TK. He was really trying to put his life back together. I was even prouder of him for standing up to Rex and not shooting the turkey. Leaving any judgements about hunting out of it, I don't believe anyone should be bullied into killing another creature. 
I even enjoyed TK's rationale for not pulling the trigger as he told Rex in this Necessary Roughness quote…
TK: I'm just looking at this turkey like he's chillin'. What did he ever do to me? | permalink
When TK fell off the wagon, Dani's reaction was perfect. She remained calm. Recovery from addiction is a long road. She told TK he needed a sponsor and she's right. Not that a therapist isn't helpful, but he needs someone who knows where he's been and what he's going through. 

That TK recognized his short comings and was willing to ask for help truly showed how far The Hawks star bad boy has come.

Speaking of bad, RayJay's in trouble. There's no possible way he's going to resist a billionaire bad girl who wants him to join in on her fun. I can't imagine this road leads anywhere good.

Any clues on who will be TK's sponsor? Do you think we've seen the last of Juliette now that she's left The Hawks. And am I the only one who recognized the similarities between Nico and Dani as they are both the family fixers? Only two more episodes of Necessary Roughness left to go.

C. Orlando is a TV Fanatic Staff Writer. Follow her on Twitter.

Tags: Necessary Roughness, Reviews