Person of Interest Review: The Social Network
by Sean McKenna at .
After the serious larger story of "Dead Reckoning," Person of Interest went back to its formula for a fast-paced and fun episode, taking its cues from social networking competition.
While Mark Zuckerberg wasn't under Reese and Finch's watchful eye, "One Percent" did include a genius billionaire who created Facebook FriendCzar, which apparently has almost a billion users. TV Fanatic has to get on that thing!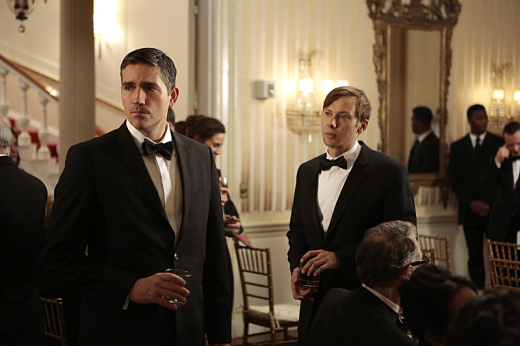 The website name doesn't exactly roll of the tongue, but its profits were enough to give one of its creators, Logan Pierce, the chance to gallivant around the city making out with married women, driving fast sports cars and doing pretty much whatever he wanted, whenever he wanted.

Even with all of the so-called politics of crushing smaller sites vying for new direction, the bottom line was that Logan wanted to evolve, to grow. He was simply a curious and passionate guy with unlimited resources and knack for getting into trouble.

Which made him all the more difficult to protect.

Played wonderfully by Jimmi Simpson, who has done stints on It's Always Sunny in Philadelphia and Breakout Kings, the actor turned what could have been a simple arrogant douche into one with a charming charisma that made you like him even amidst all the things he did.

And rather than just be a tech nerd whimpering in the corner afraid for his life, Logan was intrigued by the whole situation, as well as by Reese and Finch.

Realistically, Logan had learned who was out to get him, but he simply wanted to see how Reese and Finch operated. Sure, he may have lost his friend in the process, but clearly even that didn't bother him.

On top of that, his present that was really a GPS tracker was a nice twist that gave the supposed good guy a dangerous spin. What would happen if he discovered where Finch's lair was located? Can we assume that Logan's curiosity will drive him to keep on trying to figure out Finch and Reese?

It's certainly an interesting notion that I hope returns, especially because Logan is such a wild and unpredictable character.

The flashbacks themselves really didn't tell us too much more about the Machine, but watching Finch learn about the 9/11 attacks was major. After all, the whole focus of the show itself is illustrating technology, danger, and living in that post 9/11 world.

Similarly, it's interesting to see that Finch, who has become dedicated to saving lives, didn't quite seem as adamant about doing it when Nathan was alive.

Watching Nathan try and take charge to save people makes him more than just the money for the project, but I've got a feeling that his attempt at vigilantism might have been his downfall. Perhaps it's what eventually inspired Finch to really do more?

I'm kind of glad we took a break from the bigger issues at hand (although Logan might become a bigger issue in the future) to get back to doing their usual job. And while Fusco and Carter had very small screen time, their talk of cover ups and past issues looked like it might be setting up for something down the line.

Overall, seeing Reese in action (and actually looking like he can play some basketball), with Finch up to his wonderful tech tricks and Bear finally getting a play date, made this an enjoyable hour. I wouldn't be surprised if Logan himself would have clicked a definite "Like."

Sean McKenna is a TV Fanatic Staff Writer. Follow him on Twitter.

Tags: Person of Interest, Reviews
From Around the Web