Pretty Little Liars Scoop: Janel Parrish Teases Mona's Revenge, Identity of Red Coat and More!
by Jim Halterman at . Comments
While Mona was missing in last week's episode of Pretty Little Liars - off competing in the Academic Decathlon - look for the devious A-Team member to return tonight and get right back to her favorite pastime: driving Spencer insane.
Janel Parrish jumped on the phone with us yesterday to preview the installment episode. And, according to the actress, Spencer is going to continue to spiral out of control with more than a little help from Mona.
Read on for more on that development, as well hints about what we can expect on the March 19th Pretty Little Liars Season 3 finale.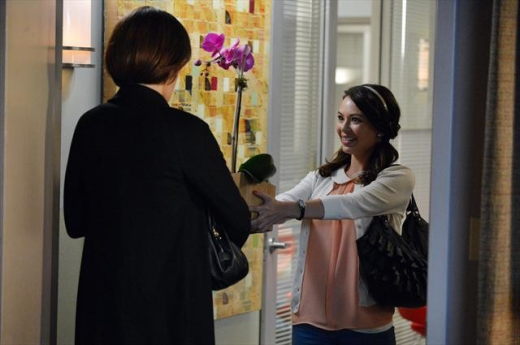 TV Fanatic: Marlene [King, Creator] has said there's so much more to the story that is coming up. Safe to assume that has something to do with Mona?
Janel Parrish: Yes! Definitely. There's always more to the story when it comes to Mona. She's never quite what she appears to be, which I think is the most fun about her character. The rest of the season will be focused on The A-Team, who the Red Coat is and who's really in charge. And Spencer will dig deeper to find out why Toby joined Mona on The A-Team.

TVF: You just said that Mona isn't quite what she seems and while there's still much debate about whether Toby is really bad. Is it safe to say that Mona is truly bad or is there more to that?
JP: I like to let the fans decide. I think each episode shows a different side of Mona and the most fun for the fans is trying to decide what Mona's ultimate agenda is. Is she ultimately a bad guy? Is there any hope for her? Is there an ounce of good in her? Will she ever go back to being the old Mona? She is unpredictable and you never really know what it's all about. I'm going to let the fans decide that one.

TVF: Spencer is going off the deep end, which I'm sure Mona is loving. But does Mona want to get rid of her or could she finally pull her onto The A-Team?
JP: I think what's interesting is that Mona wanted Spencer to join The A-Team last season and Spencer turned her down. Mona ended up being the crazy one and going away to Radley but now I think the tables are turning and Mona is coming out on top. She's calm and cool and in charge and Spencer is spiraling out of control and I think Mona definitely enjoys the way the tables have turned. There's a discussion between the two of them in an episode coming up where Mona says that to Spencer.

TVF: What is Mona's weakness, if she has one? Or will we find out one soon?
JP: I think the weakness is ultimately that she's doing all of this because she was hurt and she feels like she was tortured and betrayed. Ultimately her weakness is probably Alison. She's doing this because she hates Alison and I think a part of her still wants to be her and also wants acceptance from the girls. But I think the deeper reasoning is that she wanted their acceptance for so long.

TVF: What's the relationship between Toby and Mona at this point? Is it just working together or is there more to that?
JP: I think there's more to that that is coming out soon in the next two episodes. You'll get a little bit of backstory into why Toby joined Mona and what that relationship was.

TVF: Is there an attraction between Toby and Mona at all? I mean, Toby's been in hot tubs and walking around in a towel…
JP: [laughs] I don't think so. It's purely work related. I think Mona likes being in charge.

TVF: It may be easy to just say that Mona is out of her mind but do you think she's truly crazy?
JP: I think she's incredibly smart. I don't think she'd be able to pull off all the things she pulled off if she wasn't but I think she has a few screws loose and is a little insane, which makes her even more dangerous.

TVF: Will Mona be setting her sights on anyone else besides Spencer coming up?
JP: I think her main focus is on breaking Spencer. It's all about revenge. She wants to get back at her for turning her down when she asked her to join the A-team. I think Mona is definitely getting her way, she's very happy about it and her main focus is Spencer.

TVF:  I know the identity of the Red Coat is coming soon. Can we expect as big of a shock as we found out you and Toby were working with A?
JP: I think the last episode of the season is going to be a huge shocker. It basically focuses on finding out who this mysterious Red Coat is and there are a lot of twists and turns. In true PLL fashion we will create a very, very good cliffhanger for season 4.

TVF: In these next episodes, is Mona going to remain in control or might she lose some of that control?
JP: I think for the most part, Mona is always in control, but there are definitely twists and turns coming for her that she will not expect.

Jim Halterman is the West Coast Editor of TV Fanatic and the owner of JimHalterman.com. Follow him on Twitter.

Tags: Pretty Little Liars, Exclusives, Interviews, Spoilers, Janel Parrish