It looks like it's going to be slippery slope for everyone on this season of Southland, as "Hats and Bats" gave us a glimpse into the unhappy lives of our officers.
Sherman's decent continued as he went from gloating to his sister about his award to enjoying a little Girls Gone Wild action with his buddies. It's not that he shouldn't have enjoyed the accolades, more like Sammy was right: Taking the call in front of the devastated old woman whose sister had just been butchered in their bathroom was really cold.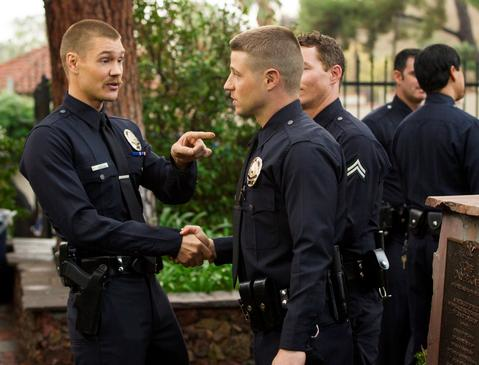 Of course, Sammy had his own problems. I couldn't believe that Tammy was trying to set him up by baiting him and then recording it on her phone. 
Then again, this is Tammy, so I guess I can believe it. The woman couldn't be bothered to get her kid a decent car seat but she's got plenty of time to set up her baby's father.
Somehow the worst moment belonged to Sherman. He was being a complete dick when he tried to convince Sammy that the kid might not be his. As though a strand of DNA would make Sammy stop loving his son. I think Sherman thought he was helping but that scenario would only make Sammy's nightmare worse, not better.  He'd lose the one thing he loves.
I adored that Sammy went back to check on the old lady, yet it became the epitome of no good deed goes unpunished when he ended up on his hands and knees cleaning up blood.
So Cooper's been in a three-year relationship? Who knew? Unfortunately, it looked as though his cranky stubbornness and inability to move forward just pushed his partner right out the door. And I know Cooper's problem was pills but diving into a bottle certainly can't help his addiction issues.

I really enjoyed Cooper's new partner, Steel. He's a boot who remains respectful while not putting up with any of Cooper's crap. I thought more of Steel when he told Cooper the short sleeve shirt tradition was ridiculous. The man's done two tours in a war zone. He's got the right to decide it's too hot to wear long sleeves. It should be interesting watching how these two men interact throughout Southland Season 5.
It was also great to see that nothing has changed with Dewey. He was still his abrasive, racist self and as usual I was torn between laughing at him and smacking him.
Lydia looked as miserable as ever as the stress of being a new mom and a full time detective took its toll. I can't imagine breast feeding while getting called out in the middle of the night and working those kind of long hours. After having to change her clothes in the car after a leaking incident I couldn't help but laugh as she muttered in this Southland quote…
God is definitely a man. | permalink
Some things are completely unfair. Motherhood can be one of them. Thankfully Lydia still has Ruben as a partner.

The game she ran on Armando was shocking, cruel and yet useful and possibly for his own good. Thankfully he'll be tested for HIV and other STDs. With any luck a sexual predator will end up behind bars. But the risk was still huge. Armando could have just as easily done something rash, such as kill himself under that kind of pressure. 

With Southland back, the streets of LA look as scary as ever - but my Wednesday nights just got a lot more interesting.

C. Orlando is a TV Fanatic Staff Writer. Follow her on Twitter.

Tags: Southland, Reviews
Want more Southland?
Sign up for our daily newsletter and receive the latest tv news delivered to your inbox for free!
More From TV Fanatic
Cindy's husband ends up dead and that forces the police into overdrive. Will his confession hold up?
On tonight's Under the Dome, Rebecca wants to release a deadly virus into the population. Will she do it? And how many would die?
Fritz is offered a new job with the LAPD on this episode of Major Crimes. Read on for more.
Joss tries to stop Harry from going back to Australia, Karen faces a dilemma involving her lover and a patient, April has a crisis of conscience and Savi says goodbye to her home on Mistresses,
---