After last week's reveal that Rose is Kate's new investor, Two and a Half Men upped the ante again in "Throgwarten Middle School Mysteries."
Walden began feeling lonely and sorry for himself as usual. In many ways, he is just unlucky in love. He has many other things working for him, but he just fall behind in the this one, fairly vital department.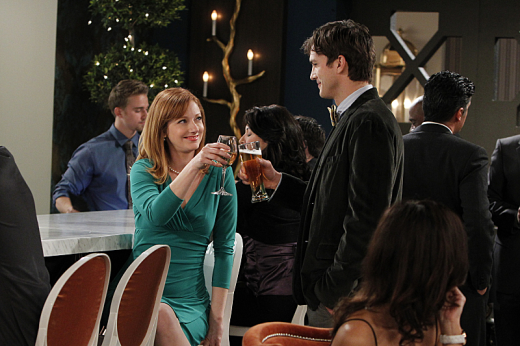 So after getting a pep talk from Lyndsey, he goes to an event filled with single people who are as lonely and rich as he is. Of course, that alone called for numerous laughs, which you can read about in the Two and a Half Men quotes section.


But - surprise, surprise,! - who does Walden see sulking at the bar? His ex-wife; Bridget. He goes up to meet her and talk and, yes, they get back together, reverting to their old ways, her acting as his quasi mother and controlling him, and he following her every command.

Alas, we were in for another twist. The sequence of events was a daydream. Everything he thought happened between them was just a fantasy; even her coaxing him to kick out Alan and Berta was just a hallucination, which is impossible by the way. 


Seriously, it is pretty clear what Walden needs. He needs a woman who loves him for who he is, someone from whom he does not need to hide his wealth. If he doesn't find that someone soon, he might just end up on that couch in 50 years.

But, hey, at least Alan will be sitting next to him.

Tags: Two and a Half Men, Reviews
Want more Two and a Half Men?
Sign up for our daily newsletter and receive the latest tv news delivered to your inbox for free!
More From TV Fanatic
On Tyrant, Bassam attempts to find a peaceful resolution instead of a revolution. Will he succeed?
On tonight's Covert Affairs, Annie and Auggie switch jobs and head to Paris. Will Auggie succeed in the field with Annie as his handler?
A leg went flying on The Real Housewives of New York City this week. You must read this review.
On Perception, Daniel and Kate try to track down a missing baby. Kate also must deal with Donnie's talks about their own future children.
---