The Writers Guild of America gathered last night and handed out hardware to those in the world of film, radio and television. Read on for a list of winners from the latter industry...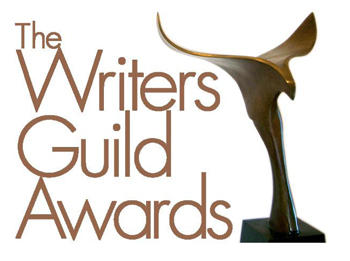 DRAMA SERIES
Breaking Bad, Written by Sam Catlin, Vince Gilligan, Peter Gould, Gennifer Hutchison, George Mastras, Thomas Schnauz, Moira Walley-Beckett
COMEDY SERIES
Louie, Written by Pamela Adlon, Vernon Chatman, Louis C.K.
NEW SERIES
Girls, Written by Judd Apatow, Lesley Arfin, Lena Dunham, Sarah Heyward, Bruce Eric Kaplan, Jenni Konner, Deborah Schoeneman, Dan Sterling
EPISODIC DRAMA
"The Other Woman" (Mad Men), Written by Semi Chellas and Matthew Weiner
EPISODIC COMEDY
"Virgin Territory" (Modern Family), Written by Elaine Ko
LONG FORM – ORIGINAL
Hatfields & McCoys, Nights Two and Three, Teleplay by Ted Mann and Ronald Parker, Story by Bill Kerby and Ted Mann
LONG FORM – ADAPTED
Game Change, Written by Danny Strong, Based on the book by Mark Halperin and John Heilemann
ANIMATION
"Ned 'N' Edna's Blend Agenda" (The Simpsons), Written by Jeff Westbrook
COMEDY / VARIETY (INCLUDING TALK) – SERIES
Portlandia, Writers: Fred Armisen, Carrie Brownstein, Karey Dornetto, Jonathan Krisel, Bill Oakley
COMEDY / VARIETY – MUSIC, AWARDS, TRIBUTES – SPECIALS
66th Annual Tony Awards, Written by Dave Boone; Special Material by Paul Greenberg; Opening and Closing Songs by David Javerbaum, Adam Schlesinger; CBS
DAYTIME DRAMA
The Young and the Restless, Written by Amanda Beall, Jeff Beldner, Susan Dansby, Janice Ferri Esser, Jay Gibson, Scott Hamner, Marla Kanelos, Natalie Minardi Slater, Beth Milstein, Michael Montgomery, Anne Schoettle, Linda Schreiber, Sarah K. Smith, Christopher J. Whitesell, Teresa Zimmerman; CBS