Grimm Return Preview: A Big Fight, A Major Payoff, Many More Nipples!
by Jim Halterman at .
When Grimm Season 2 (finally!) returns tonight on NBC, don't expect the series to slowly ease us back into a world where humans exist alongside mythological (and often deadly) creatures.
Instead, one thing that diehards have been waiting for takes place almost instantly on the spring premiere: the fight between our hero Nick and dastardly Captain Renard. Just how bad is this brawl going to be?
"I'm very excited," Sasha Roiz told me. "Because I feel like I - as well as the fans - have been waiting for about a season and a half to see all of these story lines unfold and have a confrontation with Nick."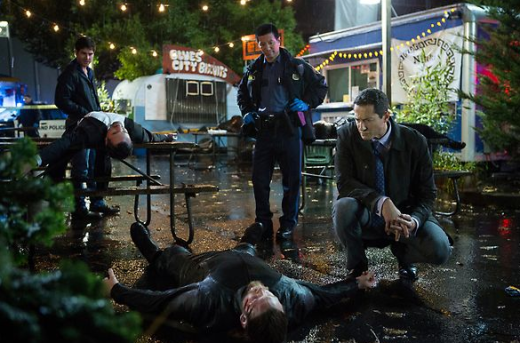 Roiz and David Giuntoli agreed that paying off the tension between their characters was beyond gratifying.

"It's great," Giuntoli said. "It's going to be a total dynamic shifter... you try to milk out this tension for as long as it can happen and then it comes to a head."

Roiz added: "I think it's a big payoff for the fans for sure to finally see this and we put a lot of work into it. It was hours and hours of fight choreography. It's a big, big monster of a fight and it is great because it has an emotional component as well that plays in to it. The fans will appreciate it."

Giuntoli laughed as he thought back on the work that went into the fight and how it wasn't the easiest thing to master for either of them: "It's pretty funny. I wish you guys could see the out takes. We both rehearsed for days with a stunt man being the other guy and then we thought we had it down and then the two of us got together and it was ugly. We had never rehearsed with lions before so that was throwing us off."

And what about the fact that Renard is sleeping with Nick's ex, Juliet? Of course, it doesn't matter that the bed buddies under Adalind's spell and their sex thus far has been more animalistic than candles and romance, right?

"I think they're both out of control and reluctant lovers," Roiz clarified. "I think that's why it's becoming increasingly dangerous because someone like Renard is basically a man of many secrets and doesn't disclose anything about himself. For him to possibly undo everything that he's been playing out over the year…he's jeopardizing all of it. This is something that is pretty much out of his control and it's fun to play him out of control."

Roiz, in particular, stressed how excited he is for the rest of the second season to play out:  "The characters, the humor, the darkness, the violence, the action, the mythology, it's all very much balanced in a way that I think the fans will appreciate and the pace has quickened. We've given away a lot of stuff. We've layered and textured the characters and their dynamic so I think this is the show and it's only going to get better and more exciting from here."  

And for fans of Renard showing off his muscular torso every so often, Roiz said fans won't be disappointed in these coming episodes: "I think my nipples will be revealed numerous times. They've not been put away forever. The captain seems to find a way to rip his shirt off every now and again."

Getting back to the fight, will the battle finally settle things between Nick and Renard? Roiz could only tease with a knowing grin: "That remains to be seen."

Jim Halterman is the West Coast Editor of TV Fanatic and the owner of JimHalterman.com. Follow him on Twitter.

Tags: Exclusives, Interviews, Grimm, Spoilers
From Around the Web